Anurag Thakur to represent BCCI at ICC and ACC
Updated - Sep 21, 2016 11:57 am
44 Views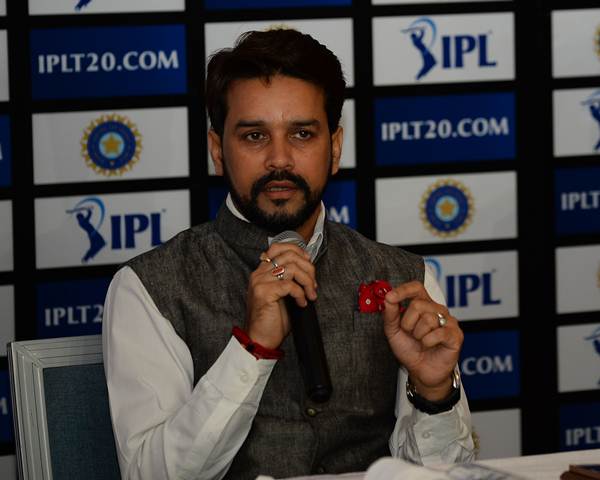 Follow us on Google News
The Board of Control for Cricket in India (BCCI), in its 87th Annual General Meeting, has announced that that president Anurag Thakur will continue to represent BCCI in the International Cricket Council (ICC) and Asian Cricket Council (ACC).
The other major decisions taken in the AGM which was held on Wednesday at the BCCI headquarters, Mumbai was the appointment of Sharad Pawar as the alternate director for ICC meetings. Also, Ajay Shirke was unanimously elected as the Hon. Secretary for the remaining part of the term.
The BCCI and the ICC have been tangled in a sort of discontentment.The difference of opinions has crept between Anurag Thakur, the president of the BCCI and the ICC president Shashank Manohar.
Thakur had previously stated that he was not interested in taking any kind of position n the ICC. However, he did send in indirect hits on the ICC prez.
The BCCI has been so far been successful in getting a few decision in their way. ICC was recently made to drop the plans for a two-tier system due to strong opposition from the Indian board along with Bangladesh and Sri Lanka.
Thakur feels that efforts are been put to cut BCCI's roots. He strongly asserted that World Cricket cannot grow with India's support.
"How can you think about the world? (In cricket), they can't run the world without India. World cricket is where they are now because of India and to sideline us will be counterproductive," he emphasized.:
He also lashed out for neglecting the necessity of having a BCCI representative in the ICC financial committee.
"India is where the maximum money comes from. So how can they have a financial committee without any BCCI representative?" he stated.
Follow us on Telegram