APL 2018: Shahid Afridi left clueless while facing Rashid Khan
Afridi was eventually dismissed for 27 off 16.
Updated - Oct 21, 2018 11:29 am
2K Views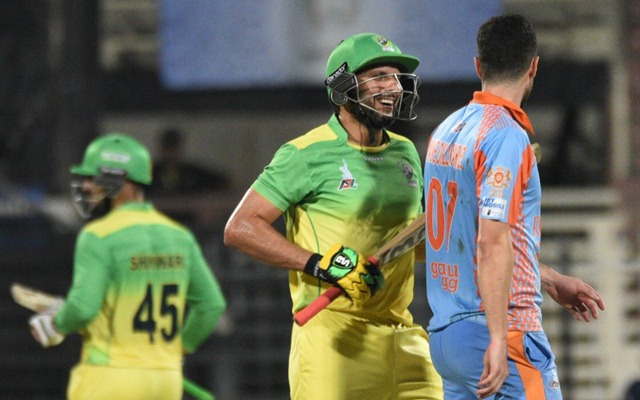 Pakistan's legendary all-rounder Shahid Afridi was left absolutely clueless when he faced a top over from Afghanistan's spin wizard Rashid Khan. The two were taking each other on in the second semi-final of the Afghanistan Premier League in Sharjah.
Rashid Khan's Kabul Zwanan were up against the Paktia Panthers to fight for a spot in Sunday's big final. The winner of this game would meet the Balkh Legends led by Mohammad Nabi, who also have the mighty Chris Gayle. Kabul posted a huge total of 192 in the first innings and had a vice-like grip on the match when they reduced the Panthers to 29 for 4.
Afridi welcomed by Rashid's class
That is when Shahid Afridi had just come in to bat, and Paktia were banking on him to turn the game on its head. Afridi's power needed no introduction – he's called 'Boom Boom' for a reason. But the 20-year old leggie had different plans altogether.
The Kabul skipper was actually on a hat-trick, and Afridi was tasked with facing the crucial delivery. He tried to cut the ball through backward point but got no bat onto it. The bowler smiled as he knew he'd narrowly missed out on the special feat. The following delivery was a perfectly executed leggie which moved away from the batsman just enough to miss his edge. Afridi acknowledged the bowler's class with a nod.
The Pakistani was able to read the next couple of deliveries and took two singles off Rashid. But the bowler came back well to bowl one that went straight through without any turn. The batsman once again resorted to playing the cut shot, but to no avail. He then went for a massive hoick over mid-wicket, came down on one knee, but the ball just about turned enough to miss off stump. Afridi was absolutely all over the place and was clearly not able to read Rashid during this passage of play.
He later smashed a couple of boundaries and two big sixes as well, but just as he was about to take off, Afridi was dismissed by Muslim Musa for 27, which was incidentally the highest individual score in the chase. The Panthers were bundled out for a paltry 102, handing the Zwanan a massive victory and a berth in Sunday's final.
Here is the video:
.@rashidkhan_19 vs @SAfridiOfficial 🙌

The Pupil-Master contest at the @APLT20official for your viewing pleasure 🍿

RASHID KHAN TO SHAHID AFRIDI

DOT – DOT – SINGLE – WIDE – SINGLE – DOT – DOT

No clue at all 😮 #APLT20 pic.twitter.com/f7Wgh2Nt1e

— Cricingif (@_cricingif) October 20, 2018