'Are they new chokers of the world?'- Shoaib Akhtar after New Zealand bottle another run-chase in Wellington
He also felt that the match shouldn't have gone to the super over at all.
Updated - Feb 1, 2020 7:23 pm
2K Views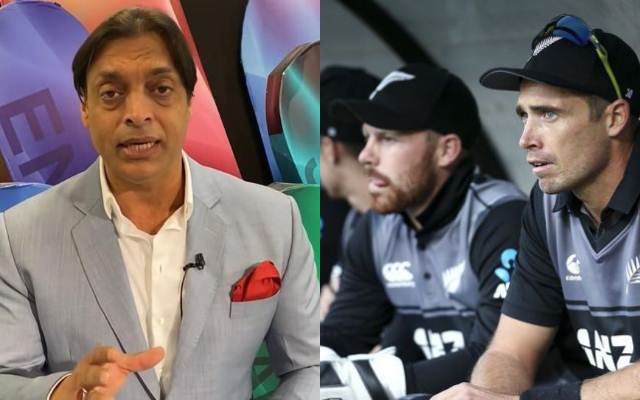 India took an unassailable 4-0 lead in the five-match T20I series against New Zealand as the BlackCaps once again failed to get the job done. Needing 11 runs off the last 12 balls with seven wickets still at disposal, the Kiwis committed another harakiri as they lost four wickets in the final over to eventually take the game to the Super Over which they once again lost.
In Hamilton, New Zealand needed just 2 runs off the final four balls and with Kane Williamson batting like a dream on 95 along with Ross Taylor at the other end, the win looked a mere formality. But they proceeded to lose their skipper and the panic set in. Ross Taylor wasn't able to get the job done and was clean bowled by Mohammed Shami of the very last delivery.
Taylor was once again at it in Wellington when New Zealand needed a further six runs in the final over. But, the senior batsman failed to seal the deal, leading to eventual collapse and another Super Over. We are living in interesting times where New Zealand is constantly threatening to become the 'South Africa of knockouts' paving way for people to now refer to them as 'Chokers'.
I don't understand what New Zealand is doing
Former fast bowler Shoaib Akhtar certainly feels the same. Speaking on yet another 'Choke' by the Kiwis, the Rawalpindi Express took to his Youtube channel where he said, "I don't understand what New Zealand is doing. They have tied 6 matches and have managed to win only 1 Super Over. Looks like they have done specialization in losing. Despite being a good team they could not achieve an easy target like 166.
Akhtar felt 166 should have been an easy chase for the Kiwis, had they not made things difficult for themselves.  He also went on to say that New Zealand doesn't have the nerves to handle pressure situations while also asking whether they are the new chokers of the World?
"166 should have been an easy chase but the Kiwis made life difficult for themselves. This goes to show they don't have the nerves to handle pressure scenarios. Are they new chokers of the world? Are they the new South Africa who could never win in a tough situation? It's very sad to see New Zealand struggling like this. I think New Zealand choke under pressure. They somehow don't know how to cross the line," the 44-year-old added.
Shoaib Akhtar, however, lauded the Indians for keeping their cool in pressure situations. "India have better nerves, they know how to control such pressure situations so once the match went into the Super Over, they had no chance," said Akhtar.
Here's the video: