'Are you aware of all #MeToo stories?' – Sona Mohapatra slams Sachin Tendulkar for praising Indian Idol
The singer was not impressed with Tendulkar because the show has Anu Malik as one of the directors.
Updated - Nov 1, 2019 12:14 pm
38.4K Views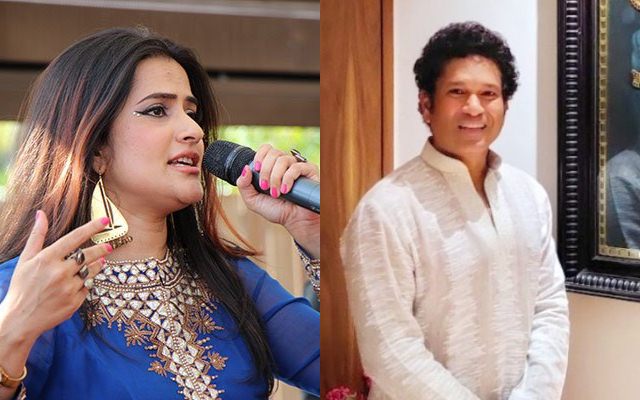 Former India batsman Sachin Tendulkar is treated nothing less than a demigod in this cricket-obsessed nation. The legendary cricketer served the nation for more than two decades and retired as the most decorated batsman in the history of the game. He carried the burden of expectations of millions throughout his playing career and did it with utmost aplomb.
Popularly known as the God of Cricket, Sachin holds almost every major batting record to his name. The legendary batsman is the only player to have scored one hundred international centuries. He is the first batsman to score a double century in an ODI and is the holder of the record for the most runs in both Test and ODI. Till date, he is the only player to complete more than 30,000 runs in international cricket. He also has the most number of centuries in Tests as well as ODIs.
In 2011, the Master Blaster helped India win its second World Cup and first since 1983. He had also helped India make it to the final of the 2003 World Cup. Tendulkar was the highest run-scorer in that edition of the World Cup. During his illustrious career, Sachin helped the country register numerous memorable wins.
Sona Mohapatra hits out at Sachin Tendulkar
Given Sachin Tendulkar's stature as well as his gentlemanly personality, one has rarely seen him grabbing the limelight for any wrong reason. But on Thursday, he was called out by Bollywood singer Sona Mohapatra for praising the contestants of singing reality show Indian Idol. The singer was not impressed with Tendulkar because the show has Anu Malik as one of the directors.
In the past, Sona Mohapatra had criticized Anu Malik and Sony TV for hiring the music composure back as the judge of Indian Idol after firing him last year during the #MeToo Movement. A number of women had alleged that Malik had misbehaved with them.
"Dear Sachin, Are you aware of all the @IndiaMeToo stories of multiple women, some minors who came forward in the public domain about Anu Malik, the judge in this same Indian Idol show last year including their own ex-producer? Does their trauma not matter or touch anyone?," wrote the singer on Twitter.
Dear Sachin, Are you aware of all the @IndiaMeToo stories of multiple women, some minors who came forward in the public domain about Anu Malik, the judge in this same Indian Idol show last year including their own ex producer? Does their trauma not matter or touch anyone? 🧚🏿‍♀️🔴 https://t.co/jE45Tth1po

— ShutUpSona (@sonamohapatra) October 29, 2019