'Are you just criticizing my captaincy' – Alastair Cook and Moeen Ali get involved in a heated discussion live on air
Former England captain Alastair Cook defended himself after Moeen Ali criticized his captaincy on air.
Updated - Jan 6, 2022 4:46 pm
960 Views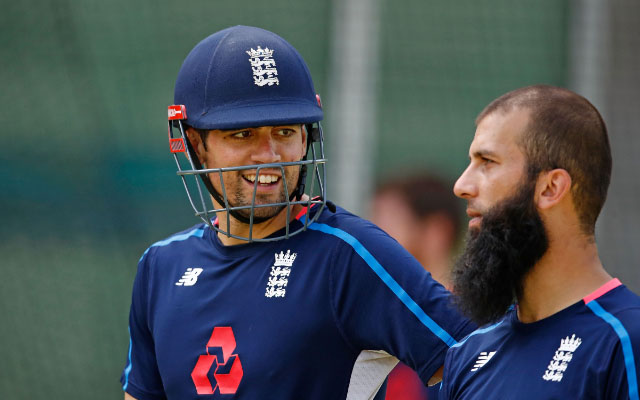 Follow us on Telegram
Former England captain Alastair Cook and Moeen Ali recently got engaged in a heated argument. The discussion took place live on air during BT Sport's coverage of the fourth Ashes Test. The conversation took place on day 1 of the fourth Ashes Test which was affected by rain.
Ali firstly reckoned the difference in the captaincy of Cook and Joe Root. He said that the latter is a tad bit more attached to the players than the former was. The discussions then also touched upon the fact wherein there were talks on under whom Ali did well in the longest format of the game.
"Rooty has more of an emotional attachment with the players, he spends more time with the players," Ali stated. "Are you just criticizing my captaincy?" Cook then asked the spinner to which he replied, "I am a little bit, yeah. They're both very different, I did do better with the bat under Cooky but with the ball, I was better with Rooty."
Cook fired back asking: "So you might criticize me but I've never dropped you, how many times did Rooty drop you?" Ali did not back down and had a reply to it. "That's true but you also batted me from 1 to 9 in my first year of international cricket," he said.
I'm not sure I will take this anymore: Alastair Cook
The former England skipper then further went on to explain the reason behind him doing so. "I was giving you a chance; I couldn't work whether you were a tail-ender or an opening batsman so I just to find the perfect role." Ali then said that he did not have a conversation of this kind with Cook earlier. He further reckoned, "Just to go back to my point, Rooty was a little bit more involved with the players, in my opinion. Not that Cooky doesn't care but I think Rooty is a bit more 'arm over the shoulder' kind of guy."
This did not go quite well with the former England skipper. He said, "I'm not sure I will take this anymore, I've just come back from a nice holiday and I've walked straight into Moeen Ali off his long run."
About the series, England has been outplayed by the hosts in the high-profile series. Australia has taken a lead of 3-0 against the Joe Root-led side wherein now the teams have locked horns for the fourth Test.
Follow us on Google News