As a teenager, I was ashamed of having asthma due to the fear of getting judged by others: Stuart Broad
The speedster credited his mother for always supporting him and encouraging him to take up sports
Updated - Jun 17, 2021 10:17 pm
443 Views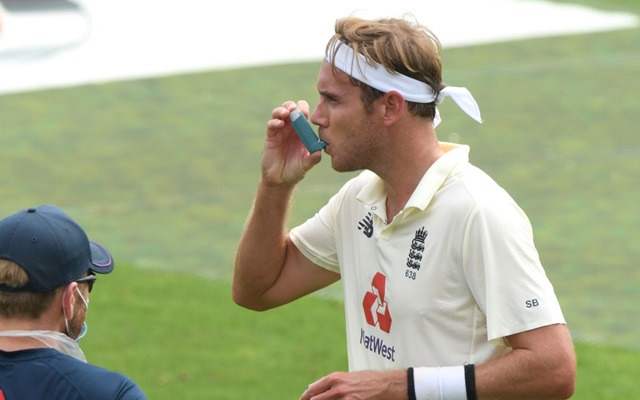 Follow us on Telegram
Stuart Broad is one of the most successful pacers of the modern era. The 34-year-old has featured in as many as 148 Test matches for England scalping a whopping 523 wickets at an average of 27.7 and an economy rate of 2.92. The pacer recently made a startling revelation regarding his health.
Broad revealed that he has battled asthma since the time he has born. The fast-bowler explained in detail how the breathing disease affected his childhood and teenage. Speaking about his early life, Broad asserted that he became fully aware regarding asthma when he was 12 or 13 years. 
During his school days, the pacer was embarrassed about having the respiratory disease and would often hide from his friends the reasons behind his sick leaves or poor health. The England star revealed an instance when he lied to his friends that he was absent from school as he was sick. The reality was that he had an asthma attack but was embarrassed to share the same with his fellow mates. 
"My asthma started from the day I was born. I probably became aware of it from the age of six or seven and fully aware of it from 12 or 13 – that's when I fully started to actually feel like my breathing would get tight and I started to understand what asthma was. 
"I think the biggest thing I suffered with, my asthma as a teenager was I wouldn't tell anyone about it. I suppose I was a bit ashamed of having it because I didn't want to get the judgment from my friends at school," Broad said as quoted by cricket365.com.
My mum played a huge role in it not affecting me with my activities or sport: Stuart Broad
Further, the speedster credited his mother for always supporting and encouraging him to take up sports. Broad reckoned that his mother made a proper schedule for him so that he could continue his passion without harming his well-being. 
"My mum played a huge role in it not affecting me with my activities or sport. I think it's very easy for parents to draw their children away from doing exercise when they have asthma but I was lucky that my mum was a sports schoolteacher, so she was quite clear on how she wanted me to cope with my asthma.
"She just knew the right sort of limits for me to go. She knew I had to do exercise for my health and wellbeing but knew that the right sort of times to pull me back and rein me slightly, particularly if it was cold in the winter. I used to find, and still do now if I go running in the cold I really tighten up," Broad concluded.
Follow us on Google News