Asia Cup 2022: Can India nail their new T20I approach with pressure on?
The spotlight will be on India's big names this Asia Cup.
Get every cricket updates! Follow us on
Following an abysmal T20 World Cup campaign, new captain and coach Rohit Sharma and Rahul Dravid recognized that India's conservative style was not going to land the major trophies, especially with such a lack of confidence batting first.
Granted, chasing teams dominated the 2021 tournament. Teams batting second won 20 of the 30 Super 12 matches, followed by the two Semi-Finals and Final. However, India entered the campaign having not nailed the art of batting first in T20Is. After all, they chose to chase in 10 out of the 14 times they had won the toss in T20Is between the 2019 ODI World Cup and 2021 T20 World Cup.
India's desire to know the target they needed led to an unadventurous approach to batting first. India mustered an average first innings score of just 156 in all T20Is last year, winning just five of those 11 matches. Such figures may point to personnel changes, especially with the IPL unearthing magnificent talents, but India's XI on paper was never short on ability, but rather lacked the mindset required to nail the T20I format regardless of the toss result.
India's renewed mindset leads to better results in 2022
A lot can change in a year. Skipper Rohit Sharma has led the way in his team's new approach, striking at 159.5 in the powerplay when batting first since the end of last year's World Cup. He has not been alone in this regard, as India as a unit has improved markedly when it comes to setting totals in T20Is.
The upcoming Asia Cup will be a great barometer to see whether India can deliver in a multi-team tournament. Highlighted in the below infographic by CricBlog, India's average first innings score has jumped to 184 in 2022, which includes more than double the number of 180+ scores. Also, India have a greater propensity to win matches when defending, achieving more than double the amount in 2022 compared to last year.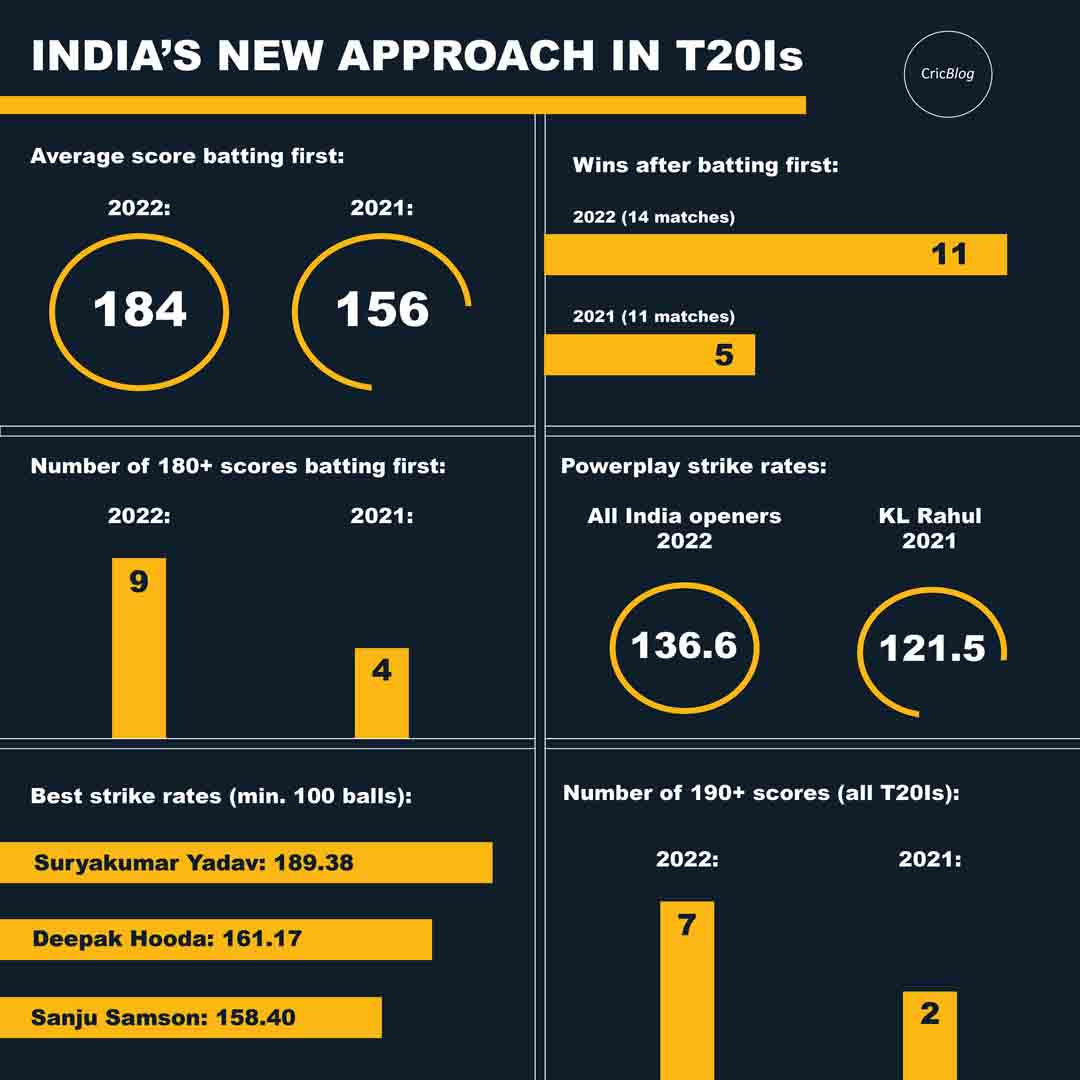 The spotlight will be on India's big names this Asia Cup
Given chasing teams dominated last year's World Cup in the UAE, Rohit's team can enter the 2022 Asia Cup with the confidence that they are the best-placed team to defend totals at the same venues.
However, certain players who have contributed to India's improved numbers will not feature in the Asia Cup. As a result, KL Rahul and Virat Kohli will be under the spotlight, as they are set to replace the likes of Deepak Hooda and Sanju Samson.
Among players who have faced at least 100 deliveries for India this year, Hooda and Samson sit in the top three for strike rates. The Asia Cup will be a test of how quickly Rahul and Kohli – two great players in their own right – can make their mark in India's new approach.
For Rohit's team, now is the time when the preparation and good performances need to translate into greater honours. India's talent pool and depth are far too great to go nearly a decade without an ICC trophy. The Asia Cup will provide insight into how well this new approach can hold up in an environment where the pressure is amplified compared to that of bilaterals, especially with the showpiece tournament in Australia just around the corner.
There is little doubt that India will enter these two tournaments with far greater clarity when batting first than in the last World Cup, with a focus on impact rather than accumulation. Last year, India hoped to win the toss to be able to bowl first. This time around, you feel the opposition will be hoping that India's aggressive approach does not come off. If it does, Rohit's team will be mighty hard to beat, even in the absence of the great Jasprit Bumrah on the bowling front. Either way, it should be fascinating to see the results of India's renewed mindset in a huge couple of months to come.
– Written by Charbel Coorey