'At that time I didn't know what I was doing'- Yasir Shah explains the reason behind his celebration
Pakistan was still forced to follow-on and have already lost three wickets.
Updated - Dec 1, 2019 8:22 pm
2K Views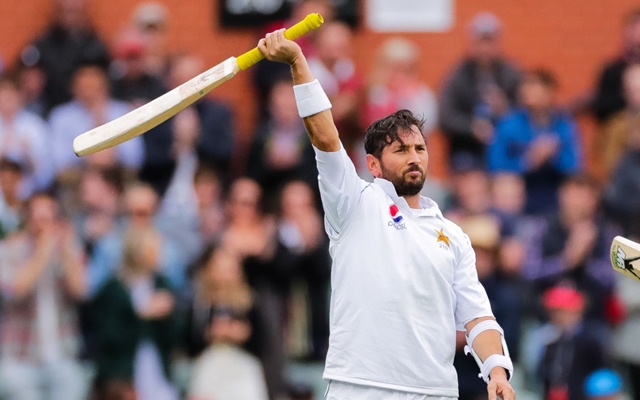 Follow us on Google News
Imagine, you are a bowler. A spinner. You are touring what is probably the toughest place for any spinner from the subcontinent to visit. You aren't in the best of form either! Your misery is further compounded by the listlessness of your pace bowling attack. The result – You create unwanted records and see opposition batsmen jumping with joy after achieving several personal milestones. 
And, then your batting unit collapses and suddenly you find yourself in the mix against the Australian quicks. You ride your luck and courtesy a plethora of grit and character, you do the unthinkable. After giving away 100s, 200s with the ball, suddenly you have a hundred, but this it is with the bat. Your first hundred in any form of cricket. That too against Australia.
What will be your first reaction? Your first thoughts? You'd go blank, right? And, have no idea as to what to do and how to react? This is exactly how Yasir Shah felt after the premier spinner smoked his maiden ton in First-Class cricket on day 03 of the Adelaide Pink Ball Test.
"At that time I didn't know what I was doing. I was very excited so I jumped and waved the bat as well. It's a dream come true for any batsman to score a hundred in Australia. This is my first hundred. My highest score before was 72 in first-class cricket. On 99 I felt a little bit under pressure because I had never scored a century."
Yasir, who celebrated his hundred with a fist-pumping jump into the sky before waving his bat above his head like a helicopter propeller, told reporters after the third days' play as quoted by Fox Cricket.
Yasir Shah's innings an example of how one makes his own luck via his character and grit
Shah rode his luck on a multitude of occasions though! He could have been easily caught in his 20s when he edged one off Nathan Lyon, only for Steven Smith to be standing a bit far. This let-off was followed by a run-out missed opportunity when Matthew Wade missed the throw when clearly Yasir was way short of his crease. As he progressed to 33, Smith squandered another catching opportunity at slip when again he was standing too far to Nathan Lyon.
Tim Paine, then, decided to give another chance to Shah when he fumbled the ball in what was a clear stumping opportunity. Finally, it was Marnus Labuschange, who dropped a simple caught-and-bowled chance when Yasir Shah was 45. But, as they say, one makes his own luck and Shah did just that courtesy his grit and character, and 45 runs later he was duly rewarded with one of the best moments of his career.
For Yasir Shah- who has taken four wickets in two Tests at an average of 100.50- it was a rare moment of joy, even as it did not result in altering the dynamics of the Test matches. Pakistan was still forced to follow-on and have already lost three wickets including the prized scalp of Babar Azam.
Follow us on Telegram