'Attacking someone over religion is the most pathetic thing a human can do' - Virat Kohli lashes out at 'spineless' trolls for targeting Shami
Shami, the only Muslim player in the playing XI, was targeted online after India's loss against Pakistan.
Get every cricket updates! Follow us on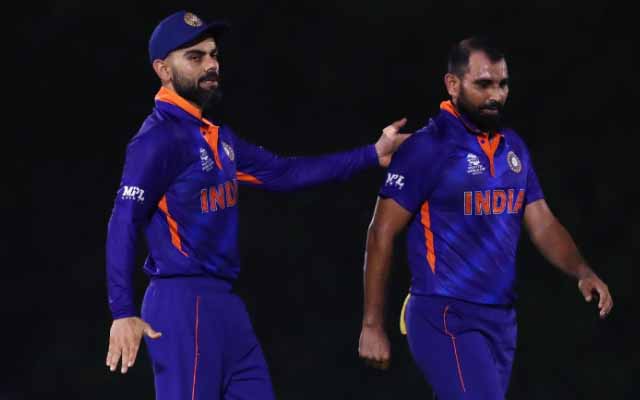 Virat Kohli, the Indian skipper, came down hard at the online trolls and abusers who targeted pacer Mohammed Shami after India's 10-wicket drubbing against Pakistan in Dubai on October 24. In a virtual press interaction ahead of India's October 31 clash with New Zealand, Kohli brushed aside the "spineless" trolls, suggesting that those on the inside do not care about the "outside voice".
"There's a reason we are playing on the field and not those spineless people," Kohli said. "It's unfortunate and sad to see people getting entertained. That is why we are doing what we are and those spineless people are doing what they are."
"Many people hide their identity in social media then try to troll the players and it is the lowest point in their life – all dramas outside due to the lack of self-confidence of them, we know how to back the players, there is no value from the outside voice."
Regrettably, Shami, the only Muslim player in the playing XI against Pakistan, was targeted over his religious beliefs, whereas incidents of communal harmony being disrupted in a few parts of the nation were reported the same day. "To me attacking someone over their religion is the most pathetic thing a human being can do. Everyone has the right to voice their opinion but I personally have never even thought of discriminating someone over their religion," Kohli said. "This is literally the lowest potential as a human being one can operate at."
"That [religious beliefs] is a very sacred and a personal thing to every human being and that should be left there. People take out their frustrations because they obviously have no understanding of what we do as individuals. They have no understanding of how much effort we put on the field. They have no understanding of the fact that someone like Mohammed Shami has won India a lot of matches in last few years and he's been our primary bowler with Jasprit Bumrah when it comes to making an impact.
"We are doing what we are doing on the field and none of these people [trolls] are even in the vicinity to even imagine doing something like that. They do not have the courage or the spine to do that. That is how I see things.
"As a group, we understand how we need to stick together and how we need to back individuals and how need to focus on our strengths and whether people on the outside portray the fact that India cannot afford to lose a game of cricket is none of our business because we play sport and we understand how sport goes. So, how people think on the outside adds no value whatsoever. We never focussed on it and we will never focus on it going forward either."
"If people can overlook that and his passion for the country, honestly I don't even want to waste one minute of my life to give any attention to the people, neither does Shami and neither does anyone else in the team. We stand by him fully. We are backing him 200% and all those who attacked him can come with more force if they want to.
"Our brotherhood, our friendship within the team and nothing can be shaken. I can guarantee you as a captain of the team that we have built a culture where these things will not even be infiltered into this environment at all and that is a absolute guarantee from my side.
A slew of former cricketers stood in solidarity with Shami. "The online attack on Mohammad Shami is shocking and we stand by him. He is a champion and anyone who wears the India cap has India in their hearts far more than any online mob. With you Shami. Agle match mein dikado jalwa," tweeted former India opener Sehwag.
Sachin Tendulkar, too, lauded Shami for his commitment, while he reckoned that like any other player, it was merely an off day for the pacer. "When we support #TeamIndia, we support every person who represents Team India. @MdShami11is a committed, world-class bowler. He had an off day like any other sportsperson can have. I stand behind Shami & Team India."