Australia start the ICC Cricket World Cup 2015 as No. 1 ODI team
Updated - Feb 12, 2015 8:36 am
150 Views
Australia start the ICC Cricket World Cup 2015 as No. 1 ODI team: The International Cricket Council (ICC) has released the latest ICC ODI Rankings days before the ICC Cricket World Cup 2015 starts. This will be the standing for the players and the teams, and they will get equal opportunity to change their Rankings and fortunes in the World Cup 2015 in Australia and New Zealand.
Along with the team rankings the ICC has also declared the top ranked ODI batsmen, bowlers and all-rounders.
Australia will launch its campaign to win its fifth ICC Cricket World Cup title when it enters the 11thedition of the game's pinnacle 50-over tournament as the number-one-ranked side on the ICC ODI Team Rankings.
Australia will feature on the opening day of the tournament on 14 February in Melbourne when it locks horns with England, which currently sits in fifth position. Earlier on the same day in Christchurch, co-host and sixth-ranked New Zealand will go head to head with former champion and fourth-placed Sri Lanka, with just five ratings points separating the two sides.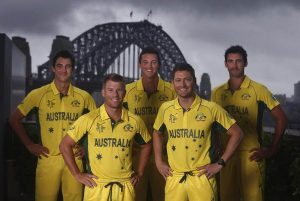 Follow us on Telegram
Australia enjoys a comfortable six-point advantage over its closest rival and defending champion India, which squares off against traditional rival and seventh-ranked Pakistan in Adelaide. Also on Sunday, 15 February in Hamilton, third-ranked South Africa takes on continental rival Zimbabwe, which is currently sitting in 10th position and trailing the title favorites by 55 ratings points.
Two-time former champion and eight-ranked West Indies will meet 12th-ranked Ireland in Nelson on Monday, 16 February with 60 ratings points separating the two sides.
Australia had also started as the top-ranked side in the ICC Cricket World Cup 2011 in the subcontinent. However, it was Mahendra Singh Dhoni's side that lifted the trophy in Mumbai after entering the competition in second position and 12 ratings points behind Australia. (Also Read Australia's World Cup Info-Graphic HD)
Australia not only has the home advantage this time around, it is also enjoying a winning momentum, having won 17 ODIs with just five defeats and one no-result since January 2014. However, this dominance is not as strongly reflected in the ICC ODI Players Rankings which includes five Australia batsmen George Bailey (11th), Aaron Finch (12th), Glenn Maxwell (17th), Shane Watson (19th) and James Faulkner (22nd) and two bowlers Mitchell Johnson (5th) and Mitchell Starc (7th) are placed inside the top 25.
Australia batsmen sitting just outside the top 25 are Captain Michael Clarke (27th), David Warner (28th) and Steven Smith (29th).
For the defending Champions India though their form raises concern but top players for the team are well placed in the Ranking to give their ICC Cricket World Cup 2015 defense more hopes.
Virat Kohli and Bhuvneshwar Kumar are India's highest-ranked batsman and bowler in third and 13thpositions, respectively. Other India batsmen to feature inside the top 25 include Shikhar Dhawan (seventh), Dhoni (ninth), Rohit Sharma (13th) and Suresh Raina (25th). Apart from Kumar, India boasts Ravindra Jadeja (14th), Ravichandran Ashwin (21st) and Mohammad Shami (24th) inside the top 25.
South Africa which is yet again looked at as a prominent team to stake its claim on the ICC Cricket World Cup 2015 trophy also has a notable presence in the ICC ODI Player Rankings.
Captain AB de Villiers leads the batting table, closely followed by Hashim Amla with Quinton de Kock (10th) and Faf du Plessis (20th). Dale Steyn will start as the highest-ranked bowler in the bowler in tournament in third position, followed by Morne Morkel (10th) and Imran Tahir (11th).
The Black Caps, co-hosts of the World Cup 2015 along with Australia are in great form going into the tournament and have players well ranked in the ICC ODI Player Rankings
New Zealand has played 14 ODIs in the past couple of months and has won nine matches. This is also reflected in the ICC Player Rankings with Kane Williamson (6th) and Ross Taylor (8th) featuring the top 10 of the batting table and Kyle Mills (20th) and Daniel Vettori (23rd), who is playing in his fifth Cricket World Cup, occupying positions inside the top 25 bowlers.
England is a team which can surprise many with their performance as most pundits don't rate them high to make a difference to their past record at the ICC mega event.
Joe Root is England's highest-ranked batsman in 14th position, while James Anderson is sitting in fifth position on the bowlers' chart. Pakistan captain Misbah-ul-Haq is his country's highest-ranked batsman in 14th position, while 15th-ranked Mohammad Irfan will spearhead the bowling attack.
Sri Lanka the Asian heavy weights and two time runners up will love to win the ICC Cricket World Cup 2015 for the two heroes of the nation Mahela Jayawardene and Kumar Sangakkara who will bid ODI cricket good bye post the tournament. The two till date hold key to the Sri Lankan batting lineup as much as they did a decade ago.
Sri Lanka's old war horses, Kumar Sangakkara and Mahela Jayawardena, who will retire at the end of the ICC Cricket World Cup 2015, will begin in fourth and 22nd position, respectively, with Tillakaratne Dilshan (fifth) and captain Angelo Mathews (16th) sitting between the two batting stars. Rangana Herath (eighth), Sachithra Senanayake (17th) and Mathews (22nd) are the top-ranked Sri Lanka bowlers.
Among the four qualifiers, Ireland's Paul Stirling will start as the highest-ranked batsman in 36thposition, while Afghanistan captain Mohammad Nabi is the highest-ranked bowler and all-rounder in 31st and eighth spots, respectively.
Check the ICC ODI Rankings here:
ICC ODI Team Rankings (as on 12 February 2015) (Here)
ICC ODI Player Rankings (as on 12 February 2015) (Here)
ICC ODI Bowlers Rankings (as on 12 February 2015) (Here)
ICC ODI All-rounders Rankings (as on 12 February 2015) (Here)
Follow us on Google News