Australia vs India: Nathan Lyon opens up on the dressing room tradition in honour of Phil Hughes
Adam Gilchrist, after conducting the interview, felt that the gesture to honor Hughes is really touching.
Updated - Dec 19, 2018 8:52 am
165 Views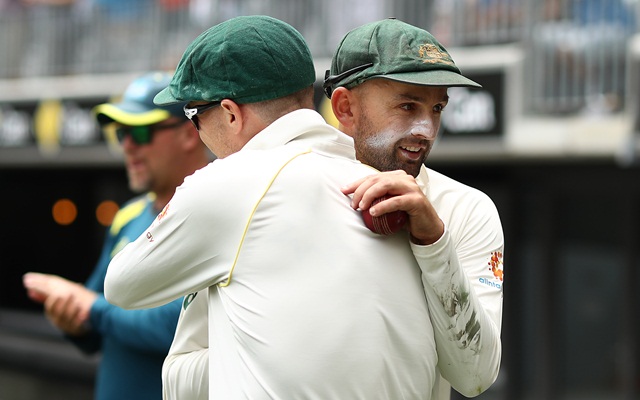 Follow us on Telegram
The demise of late Australian cricketer Phil Hughes is one of the most heart-breaking incidents that occurred on a cricket field. The sight of him getting hit by a bouncer during the Sheffield match on November 27 still haunts the cricketing fraternity. Even after four years since the unfortunate event happened, people reminisce the left-hander and more so do his Australian teammates.
On the memory of their special mate, Australian team initiated a lovely tribute. In the new tradition, one player from each match receives a special blazer as an honor to late Hughes. The latest recipient of it is Australia's frontline spinner, Nathan Lyon. The 31-year old spoke emotionally about the memorandum as well as his dear departed friend.
Nathan Lyon gets emotional about Phil Hughes
Lyon spoke to former Australian batsman Adam Gilchrist after the second Test match against India at Perth. The former said that the tradition involves choosing the best player after each match. The chosen player then gets a gold blazer that has number 408 inscribed on it, the Test cap number of Hughes. "It is the man-of-the-match jacket made in honor of Phillip Hughes. The players' vote after each match and whoever owns the jacket at the time, which is the last man-of-the-match winner, has the opportunity to pass it on in the next match," he said to Fox Cricket.
The off-spinner received the gold blazer for his match-winning performance against India. The spinner felt emotional about getting the memorandum. He added that he, as the latest recipient, can now decide whom he should pass the blazer on to."I have jacket after Adelaide, so I have the decision to who to pass it on to. It is a very special jacket for a number of reasons. Whoever wears this tonight will wear it down to the bar and have a couple of drinks in it and look pretty special walking around in it".
Gilchrist's take on Australia's touching gesture
Adam Gilchrist, after conducting the interview, felt that the gesture to honor Hughes is really touching. The legendary wicket-keeper batsman said, "It is a wonderful piece of acknowledgment for a lost friend of Australian cricket and it is obviously particularly close to this current bunch of Australian cricketers, who played alongside Phil Hughes".
Watch the video here
Nathan Lyon gives insight into a new tradition inside the Australian Men's Test Team #408

📺 Watch LIVE on #Cricket360 NOW pic.twitter.com/OziSgotq3O

— Fox Cricket (@FoxCricket) December 18, 2018
Get the latest Cricket News and updates from Australia vs India series, Match Predictions, Fantasy Cricket Tips and lots more on CricTracker.com.
Follow us on Google News