Australian journalist takes a dig at Virat Kohli & Co.
Dennis unintentionally stirred a war of words between India and Pakistan fans.
Updated - Sep 12, 2017 4:40 pm
16K Views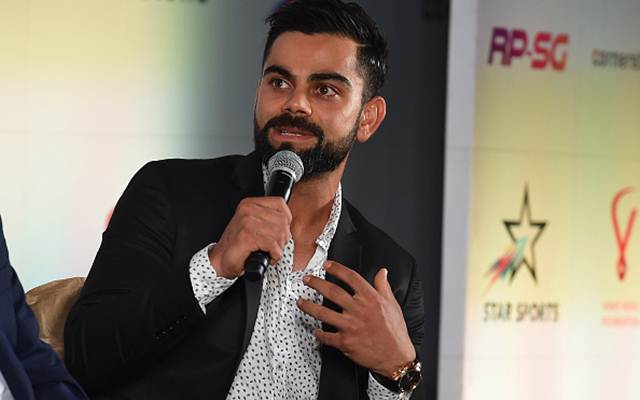 The World XI tour will commence later this evening at the Gaddafi Stadium in Lahore. Fans are desperately waiting for the first ball to be delivered which will mark a return of quality cricket in Pakistan after a gap of 8 years. There have been a lot of discussions on the non-participation of the Indian cricketers in this historic event. An Australian journalist, in a sarcastic post on Twitter, took a sly dig on the Indian team.
Dennis Freedman is known to be a humorous cricket reporter for a number of years. He is a popular personality on microblogging website Twitter and enjoys a following of over 65,000 people. His posts are generally funny in an attempt to make cricket less stuffy. On Tuesday, he touched on a sensitive topic, much to the anger of Indian fans. He posted a picture of Virat Kohli and his team from last year, when the Indian squad participated in the Swatch Bharat campaign and cleaned the Eden Gardens. Dennis captioned the picture as: "Sweepers clean the stadium in readiness for the World XI match."
Sweepers clean the stadium in readiness for the World XI match pic.twitter.com/QWzzW13OFc

— Dennis (@DennisCricket_) September 12, 2017
Indian fans did not hold back
The Indian fans took the post in bad taste due to the acrimony between India and Pakistan. India, who haven't played Pakistan in a bilateral series for almost five years, have a busy international schedule. Above that, the Indian government hasn't permitted their cricketers to visit or play in Pakistan in a bilateral series due to the existing political turmoil between both countries. Earlier in the day, Andy Flower acknowledged the political situation between both countries and treated it sensibly.
Indian followers of Dennis Freedman were quick to retaliate and stand up for their cricketing heroes. Some took refuge on the moral front while a few exchanged verbal volleys.
Wow… Thanks for showing how good we indians are… We know to clean the place we worship. So keep making india proud of their culture.

— Krish De Villiers (@im_de_krish28) September 12, 2017
This is not a troll?Sweepers are hard working human beings too.I dont see this as an insult n troll for Indian players?Cheers

— Prachi Das?? (@iPrachiDas) September 12, 2017
Jis player ki puri Pakistani team aur duniya tareef karti hai use tumharey kuch galat kehne se kya farq parega ?

— Nifahat (@nifahat) September 12, 2017
Virat Kohli cleaning all the match fixing dirt in the Pakistani cricket squad.

— Dileep Krishna (@benigntumour) September 12, 2017
— Uday KASOJU (@Uday_kasoju) September 12, 2017
— Gurudutt (@Gurudutt9_) September 12, 2017
Kohli received support from across the border when a couple of Pakistan fans called to give the Indian skipper respect.
Have some respect, cricket ko b politics jesa ganda na banao!

— Superna Batheja?? (@SupernaBatheja) September 12, 2017
This is so disrespectful!!

— Zayn Rafiq Rajput (@SUPERCOOLZAINU) September 12, 2017