Australian Open calls Anushka Sharma 'legend'; Twitterati turn it into a meme
Anushka and Virat attended Federer's match at the Australian Open.
Updated - Jan 19, 2019 6:51 pm
1.1K Views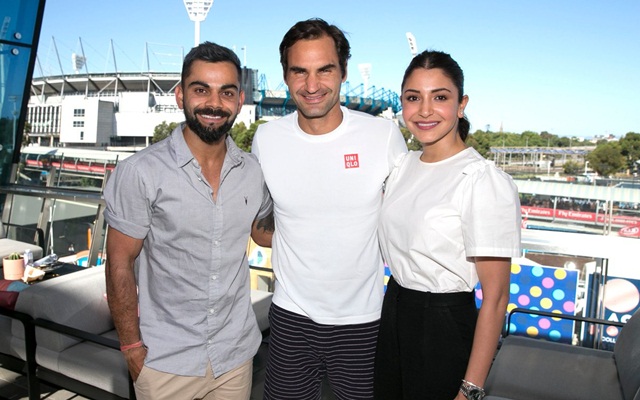 Anushka Sharma, ever since she has got married to the Indian captain Virat Kohli, has been in the limelight. Not that she wasn't before but her every action is being highlighted now. She is with her husband in Australia at the moment and also witnessed India's historic series win in Tests and ODIs on the tour. The couple, to conclude their stay down under, decided to attend an Australian Open game where the legendary Roger Federer was playing.
Australian Open is the Grand Slam Tennis tournament and the year's first competition in which the top Tennis players around the world ply their trade. While many players of the Indian team attended the competition during the ODI series, Kohli opted to visit after creating history on the 22 yards.
It comes as no surprise that the Indian captain and his wife were given special treatment and the duo enjoyed a match to the fullest. Moreover, they also clicked a picture with Roger Federer after the match and Kohli also expressed his elation over the same.
Australian Open's Twitter handle posts a picture
Meanwhile, Australian Open's official Twitter handle also posted the picture of Roger Federer, Virat Kohli and Anushka Sharma together with the Tennis star at the centre. The adorable picture went viral soon but the fans were irked with the caption the was used. Australian Open called all the three personalities in the picture legends. "Three legends, one photo @imVkohli x @rogerfederer x @AnushkaSharma #AusOpen," the caption read.
While the Twitterati agreed with the fact that Kohli and Federer are the legends, Anushka came under the scanner unnecessarily. Though the Bollywood actress has worked in so many movies to become one of the most successful personalities in the industry, the fans felt that she is not a legend by any means and once again trolled her.
Here's the tweet:
Three legends, one photo 🤩@imVkohli x @rogerfederer x @AnushkaSharma #AusOpen pic.twitter.com/25D0rRdlZP

— #AusOpen (@AustralianOpen) January 19, 2019
Here are the trolls:
fixed it, since you said " Legends ".
👍 pic.twitter.com/DE5O7uaDwU

— Sunil- The cricketer (@1sInto2s) January 19, 2019
So next time I meet Roger and I am a legend 😀

— Girish Vasmatkar (@grv4ya) January 19, 2019
*Two legends, One photo 👊👊 pic.twitter.com/xGxBp48YDB

— Mahim❄️#21 (@mahimcp42) January 19, 2019
I think third legend is taking a the picture … Right?

— Srikanth 🇮🇳 (@srikanthbjp_) January 19, 2019
Who is the third legend? You forgot to put his/her picture.

— Maya (@Sharanyashettyy) January 19, 2019
Please ! She ain't a Legend @AustralianOpen #AusOpen

— Vdyr (@DominicVivek) January 19, 2019
Anushka Sharma is the only legend,
Rest two are just intnl players

— NISHANTH REDDY (@NISHANTHREDDYG2) January 19, 2019
Three legends? 😂😂😂

— Ameeksha (@ameeksha) January 19, 2019
@AnushkaSharma aur legend 🦆

— युद्धं कुर्वन्ति इति योधाः (@Its_Sr7) January 19, 2019
Roger is the only legend in this frame…Virat is great and Anushka is nothing tbh. Even in India she is not a big name.

— SuperRu (@iRumii_B) January 19, 2019
How on earth is @AnushkaSharma a legend? @PratikShenoy94 @KamathVighnesh @MallyaJayaram @dhikshan @nayak_pradeesh

— Siddharth Shenoy🇮🇳 (@siddharthbasty) January 19, 2019
Two legends lol 😂

— Mahim❄️#21 (@mahimcp42) January 19, 2019
Legend in what?? Being a part of flop films

— Maheshmello (@cric_infinity) January 19, 2019
[interaction id="5c4034d63c20d0643a752579″]