Australia's fixture in ICC World Cup 2015
Updated - Dec 5, 2014 10:33 am
55 Views
Australia's fixture in ICC World Cup 2015: As co-hosts of the 2015 tournament, Australia will be out to make their hometown fans happy and claim a 5th World Cup title. Currently, no team other than Australia has won the World Cup 4 times.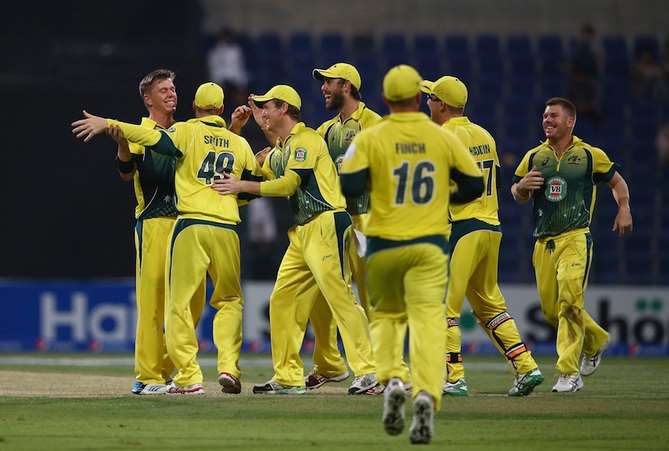 Follow us on Telegram
Australia are placed in Pool A of the Group Stage part of the ICC World Cup 2015 alongside England, Sri Lanka, Bangladesh, New Zealand, Afghanistan, Scotland.
Fixtures
1.) 2nd Match, Pool A – Australia v England (Sat Feb 14 at Melbourne Cricket Ground)
The way Indian and Pakistani cricket fans treat India vs Pakistan cricket rivalry, Australian and England cricket fans also treat their matches in the same way with their matches being high tension ones. Australia have a superior 4-2 Head-To-Head record against England in World Cups but this won't make any significance for any of the two teams as both of the teams have had a complete overhaul in the last couple of years. These 2 teams will also play each other in a tri-series in Australia along with India before the world-cup. Home advantage would definitely help Australia's case.
2.) 11th Match, Pool A – Australia v Bangladesh (Sat Feb 21 at Brisbane Cricket Ground)
It is time that Bangladesh start winning matches too instead of winning just hearts and they will be looking to make a mark and cause some upsets in the tournament but it is highly unlikely that they will unsettle Australia, that too in Australia.
3.) 21st Match, Pool A – New Zealand v Australia (Sat Feb 28 at Eden Park, Auckland)
New Zealand proved to be a strong unit at home by beating India 4-0 in a ODI series earlier this year but a series loss to South Africa, at home last month has raised questions on their team balance. Australia have a dominating 6-2 H2H record against them in World Cups and would be looking to add one more win to their kitty.
4.) 26th Match, Pool A – Australia v Afghanistan (Wed Mar 4 at Western Australia Cricket Association Ground, Perth)
This will be Afghanistan's 1st world cup and we don't expect this match to turn heads. Though, it will be a great learning experience for Afghanistan as not often they get the chance to play quality sides like Australia.
5.) 32nd Match, Pool A – Australia v Sri Lanka (Sun Mar 8 at Sydney Cricket Ground)
The finalists of the 2007 Cricket World Cup will play each other in this match. Australia have a strong 6-1 record against the Island nation at world cups. It is expected to be a thriller as both teams have a good record at World Cups.
6.) 40th Match, Pool A – Australia v Scotland (Sat Mar 14 at Bellerive Oval, Hobart)
They have played each other twice in World Cups with Australia routing Scotland both the times and it is highly unlikely that the script will change for this match.
The top 4 teams from each pool will proceed to the next round i.e. Quarter-finals and it looks quite clear as to which 4 teams (Australia, England, New Zealand, Sri Lanka) will proceed to the knockout stage of the World Cup from Pool A unless any major upset happens.
Follow us on Google News