Axar Patel is taking advice from 'one of the legends of the game'
Axar Patel is a key figure in the Kings XI Punjab set up.
Updated - Apr 13, 2018 8:37 pm
573 Views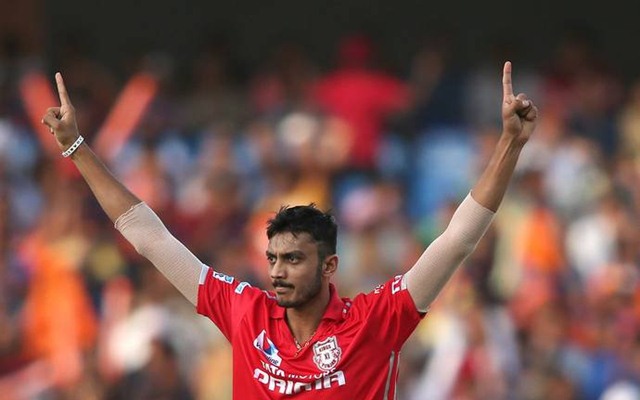 Axar Patel was one of the best players for Kings XI Punjab in the last season. The left-arm spinner took 15 wickets in the season. He was quite handy with the bat too, as he scored 227 runs, which is very good considering that he bats in the lower middle order. He adds great value to the team, which is perhaps the reason behind KXIP management's decision to retain him.
Axar Patel aiming to improve his batting
Kings XI Punjab made many changes in their squad in the recent auction. They have appointed Ravichandran Ashwin as the captain, Yuvraj Singh is another senior figure in the team. Axar Patel is a key figure in the Kings XI Punjab set up, and he admitted that he keeps talking with Yuvraj Singh, in order to learn from him.
"Yuvraj is one of the legends of the game. We keep talking to each other whenever we can. His main point is that each player has his own mindset and technique. Follow your strengths is his mantra." Axar Patel said about Yuvraj Singh as quoted by the Indian Express
The left-arm Gujarati spinner praised Yuvraj's knowledge of the game. He said that Yuvraj has given him some batting tips. he suggested Axar to concentrate on his strengths.
"His knowledge of the game is immense and he shares it with me often. In the net sessions, he tells me that if the ball is in your area then you should go for it and if it's not in your zone then you should know how to manoeuvre it. He keeps insisting that I focus on my strength. So yeah, he does help me with my batting," he added.
Sticking to his gameplan
Axar Patel is only 24 years old, but he has no dearth of IPL experience. He added that players in the IPL are well aware of their strengths and weaknesses. He argued that he knows his game, and he doesn't let critics opinion affect his game.
"Playing on such a big platform, you know your strengths and weakness and with each passing season, you do need to bring in a few changes. As far as bowling is concerned, I stick to my plan. A lot of people have told me that I bowl fast and should reduce my pace but I have my own gameplan and I stick to what I have been doing best." Patel said