Azeem Rafiq issues apology after his anti-semitic messages come to light
Azeem had revealed disturbing details of racism in the English county system.
Updated - Nov 18, 2021 11:40 pm
1.8K Views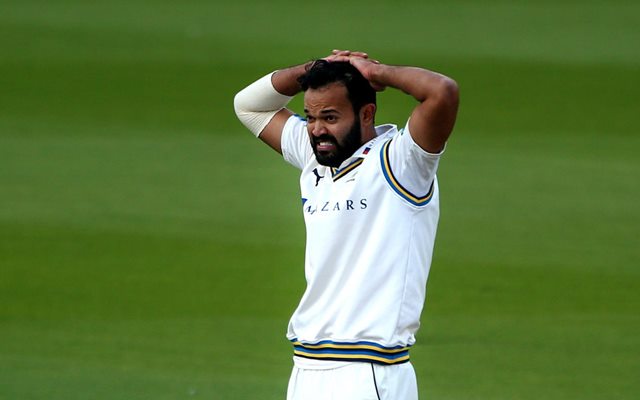 Follow us on Google News
England cricket has been in hot waters lately primarily due to racism allegations made by former Yorkshire cricketer Azeem Rafiq. The former spinner revealed disturbing details of racism in the English county system to the members of parliament earlier this week. His actions also cost Yorkshire cricket the rights of hosting international matches. While many have been lauding Rafiq for speaking up against social injustice, a recent revelation put the former cricketer in hot waters.
A decade-old conversation between Rafiq and a fellow Asian player of an anti-Semitic nature has been found. The exchange took place on the social-media website Facebook where Rafiq made fun of a player of Jewish origins for hesitating to spend enough on a meal. The duo were talking about a third Asian player, who was then representing Derbyshire.
Azeem Rafiq's old exchange with teammate goes viral
"Hahaha, he is a Jew. Probs go after my 2nds again ha… Only Jews do tht sort of shit," Rafiq had said in a conversation with Leicestershire's Ateeq Javid. For the unversed, Rafiq has revealed several experiences of racism which he came across during his two set of stints with Yorkshire. While the former cricketer bagged praises for his efforts, this saga has earned him backlash from different corners.
With the anti-Semitic nature of the messages becoming the talk of the town, Rafiq released a statement where he mentioned that he has absolutely no excuses for his behavior. While apologizing to the people of the Jewish community, he added that he was 19 years at the time and wasn't aware of his words.
"I was sent an image of this exchange from early 2011 today. I have gone back to check my account and it is me. I have absolutely no excuses. I am ashamed of this exchange and have now deleted it so as not to cause further offence," stated Rafiq.
"I was 19 at the time and I hope and believe I am a different person today. I am incredibly angry at myself and I apologize to the Jewish community and everyone who is rightly offended by this," he added. Meanwhile, several cases of racism in English county cricket have been reported after Rafiq opened up. However, it remains to be seen whether he faces any repercussions due to his old exchange.
Follow us on Telegram