Bangladesh earn a sizeable cash reward for their CT 2017 performance
Bangladesh made history by qualifying for the semis of CT 2017.
Updated - Sep 27, 2017 3:12 am
10.6K Views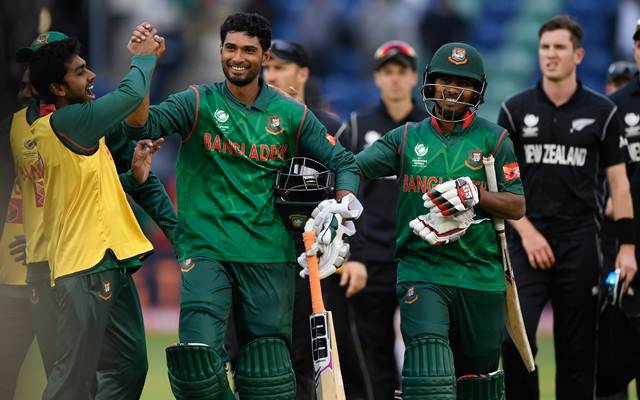 Bangladesh had a good run in the recently concluded ICC Champions Trophy 2017 in which they reached the semi-finals which was the first occasion that the team qualified to play so far ahead in an ICC event. And thus they have earned a healthy amount of money from the International Cricket Council (ICC) for making it to the top 4 in the Champions Trophy 2017, England and Wales.
If the sum has to be converted into local money it accounts for something around 4 crore Bangladeshi taka. Given the financial condition of the board and humble background of most of their players, this will be a huge financial boost for them and also inspire the team to do well in the future.
Winning run
Bangladesh did not start the tournament well as they lost to hosts England in their first game by 8 wickets and were lucky to gain a point against Australia in the rain-affected match. However, the Tigers made one of the historic comebacks of all against a strong New Zealand team and defeated them by 5 wickets. After the English team beat the world champions Australia it paved the way for Bangladesh's qualification for the knockouts.
In the semi-final, they met defending champions India and in a rather one-sided contest lost the match by 9 wickets.
Development of the Bangladeshi Team
Bangladeshi team is one of the most improved sides in international cricket since the 2015 World Cup. They defeated the bigger teams like India, Pakistan, New Zealand and South Africa at home in limited-overs series. It was a good experience for the young team to make it to the semi-finals of a big tournament for which they earned $0.45 million from the ICC (3 crore 63 lacs in Bangladeshi taka).
Other Winners
Champions of the tournament Pakistan won themselves $2.2 million (17 crore 74 lacs taka). Runners-up India have been rewarded $1.1 million (9 crore taka approx.). South Africa and Australia, the number three-positioned teams from their groups have received $90,000 (72 lacs approx.) each while, New Zealand and Sri Lanka have received $60,000(48 lacs approx.) each.
– Written by Kuljyot Singh