Bangladesh fans insult Virat Kohli on Facebook
A certain Bangladeshi page by the name Mr420.bd posted an image of Virat with a dog's image parallel to it.
Updated - Jun 16, 2017 2:26 am
9.7K Views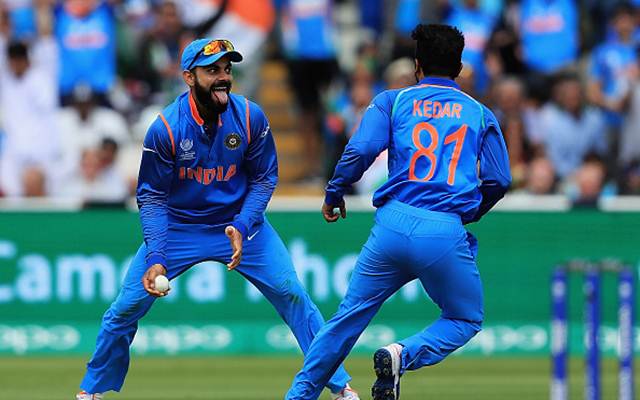 Cricket is a game of passion, emotion and expression but there is a certain limit that the players maintain and that plays a major role in making this sport a gentleman's game. But the fans, they seldom manage to stay within bounds and in their effort to get under the skin of the opposition fans stoop pretty low. Especially subcontinent fans know no limits in trolling the other team and players on social media. A similar incident happened today as Bangladesh fans insulted Indian skipper Virat Kohli.
Team India had opted to bowl first in the semi-final match of the Champions Trophy 2017 against Bangladesh at Birmingham. After two early wickets the Indian bowlers found it tough to crack another Bangladeshi wicket and just then Virat's trick of bringing in Kedar Jadhav into the attack worked. The part-time off-spinner didn't get just one but gave the team two wickets and that of set batsmen.
Virat was actively involved on the field right through charging his team when the partnership between Tamim Iqbal and Mushfiqur Rahim was gaining momentum and coming hard at them. Soon after Tamim's wicket Virat had repositioned himself to mid-wicket and Mushfiqur hit it straight to him. The skipper was ecstatic and put out his tongue while celebrating the wicket with Jadhav.
While the Indian team went on to win the match making little work of the chase of 265 with opener Rohit Sharma scoring a century and Virat staying unbeaten on 96 but Bangladeshi fans more than cricket were interested in mocking the Indian skipper for his expression on social media.
The demeaning post
A certain Bangladeshi page by the name Mr420.bd posted an image of Virat with a dog's image parallel to it and the world 'same' written on it. Not just that but more than 27000 fans reacted to it, the post was shared over 3700 times on Facebook and received over 1500 comments.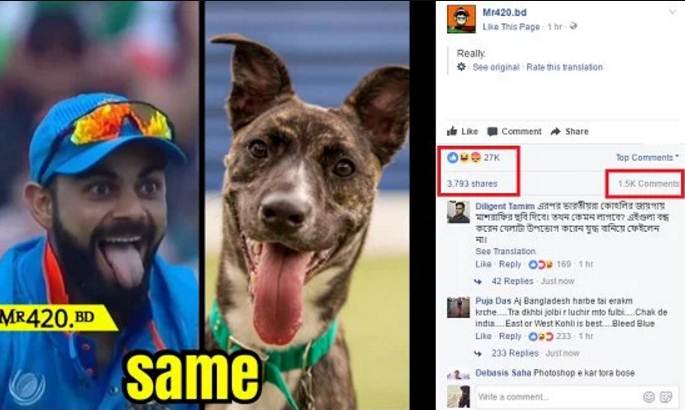 Mashrafe Mortaza and his team did make the entire nation proud by qualifying for their first semi-final in an ICC event but the fans have once again created an awkward situation for them.
Earlier leading into the game a bunch of fans created and circulated images of Bangladesh as tigers hunting down India as dogs on social media. It wasn't received well and drew a lot of flak across forums.