Bangladesh kept bereft of home ODIs in 2019 ICC's FTP
It was jam packed season until World Cup for them next year.
Updated - Dec 24, 2018 7:29 pm
2K Views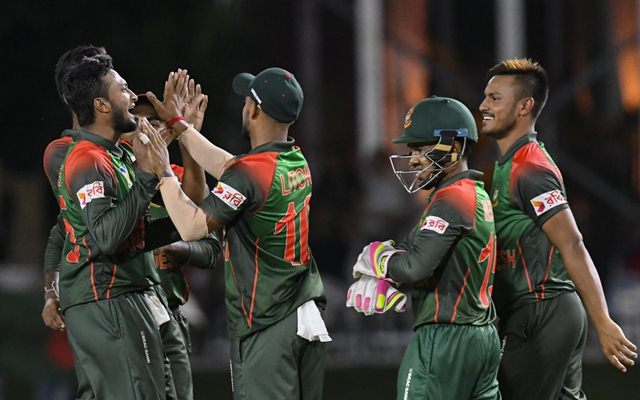 2018 has been a memorable year for Bangladesh. They registered a total of 21 international victories which is the most ever for them in a calendar year. Recently, they dominated the Windies at home in Tests and One-Day Internationals before losing the T20I series. However, the Tigers will be facing a lot of overseas challenge in 2019, especially in the 50-over format as they will not be playing any ODI in front of their home crowd.
Bangladesh are scheduled to play as many as 33 international matches next year which comprises of six Tests, 19 ODIs and eight T20 Internationals. It will be a testing year for them given the fact the team's record away from home is dismal, to say the least. Their 2019 starts with the New Zealand tour in February-March where they are scheduled to play a rare three-match Test series to go with the same number of ODIs.
Good preparation ahead of World Cup
The Bangladesh Cricket Board (BCB) has cleverly scheduled an ODI tri-series in Ireland in May just before the World Cup where Windies will also join them as the third team. This series will help the teams to get hold of the conditions as the showpiece event will commence only 13 days after the conclusion of the tri-series.
In a rarity these days, Bangladesh players will enjoy a three-month break from the international arena after the World Cup before hosting Australia in early October for three T20Is. Afghanistan will also visit them soon after that for the one-off Test and a couple of matches in the shortest format. After a mini home season, the Tigers will visit their neighbouring countries India and Sri Lanka in November and December according to bdcrictime.
While India will play two Tests and three T20Is against them, Sri Lanka will host Bangladesh only for three T20 Internationals. This is their schedule according to the ICC's FTP as the BCB can schedule any series outside of it if they wish to.
Here's Bangladesh detailed schedule of 2019:
New Zealand tour
February 13: First ODI at McLean Park, Napier
February 16: Second ODI at Hagley Oval, Christchurch
February 20: Third ODI at University Oval, Dunedin
Feb 28-March 4: First Test at Seddon Park, Hamilton
March 8-12: Second Test at Basin Reserve, Wellington
March 16-20: Third Test at Hagley Oval, Christchurch
ODI Tri-series in Ireland
May 5: Ireland vs Windies at Clontarf Cricket Ground, Dublin
May 7: Bangladesh vs Windies at Clontarf Cricket Ground, Dublin
May 9: Ireland vs Bangladesh at Malahide Cricket Club, Dublin
May 11: Ireland vs Windies at Malahide Cricket Club, Dublin
May 13: Bangladesh vs Windies at Malahide Cricket Club, Dublin
May 15: Ireland vs Bangladesh at Clontarf Cricket Ground, Dublin
May 17: Final at Malahide Cricket Club, Dublin
ICC Cricket World Cup 2019
June 2: Bangladesh vs South Africa at Bristol County Ground, Bristol
June 5: Bangladesh vs New Zealand at The Oval, London
June 8: Bangladesh vs England at Cardiff Wales Stadium, Cardiff
June 11: Bangladesh vs Sri Lanka at Bristol County Ground, Bristol
June 17: Bangladesh vs Windies at County Ground, Taunton
June 20: Bangladesh vs Australia at Trent Bridge, Nottingham
June 24: Bangladesh vs Afghanistan at Hampshire Bowl, Southampton
July 2: Bangladesh vs India at Edgbaston Cricket Ground, Birmingham
July 5: Bangladesh vs Pakistan at Lord's Cricket Ground, London
Home series against Australia
October 7-11: Fixtures yet to be finalized (3 T20Is)
Home series against Afghanistan
October 14-25: Fixtures yet to be finalized (1 Test and 2 T20Is)
India tour
November 4-29: Fixtures yet to be finalized (2 Tests and 3 T20Is)
Sri Lanka tour
December 2-13: Fixtures yet to be finalized (3 ODIs)