Barmy Army 'disappointed' on being scattered around at the Gabba
The Barmy Army is not happy with Cricket Australia's ticketing policy.
Updated - Nov 24, 2017 12:34 pm
1.4K Views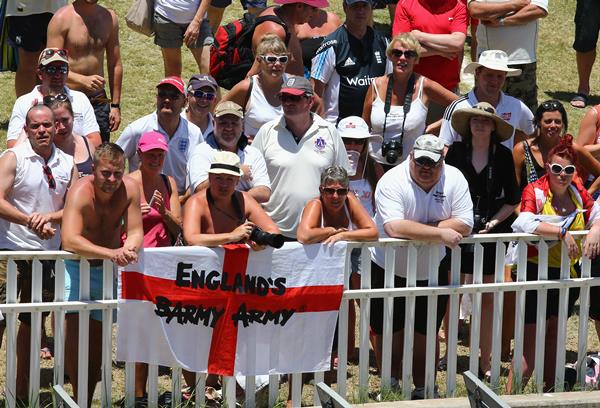 The Barmy Army were on song at the Gabba, Brisbane. The ongoing 1st Test match is turning out to be a cracker, as both the sides have the opportunity to clinch a victory. England were bowled out for 302 in their first innings, as Aussie pacers- Mitchell Starc and Pat Cummins shared 6 wickets between them. Australia are currently at 155/4, with skipper Steven Smith looking set.
Cricket Australia played a masterstroke by scattering the 4000 touring England cricket fans around the ground. Barmy Army's co-founder Dave Peacock termed CA' ticketing structure as 'disappointment'. The group targeted David Warner's wife Candice Warner and sang a song related to the infamous toilet tryst in a Sydney bar with cross code star Sonny Bill Williams.
Barmy Army target Warners
"Davie Warner is over the hill, Came second to Sonny Bill,' the chant everyone heard at the packed stadium. The group has certainly targeted the Aussie vice-captain, after Warner's controversy with Joe Root during the 2013 series. It was reported that Root held a wig to his face, taking a dig at South Africa's Hashim Amla, who is a friend of Warner.
"He'll only pick a fight with men in a wig, when he opens his gob we think he's a knob, with Root our captain we'll take the urn home," the chant goes somewhat like this. This has certainly not gone down very well with Australian cricket lovers. Candice can often be seen attending cricket matches along with their two kids. She hasn't commented on this incident but it was sure to be unpleasant.
'I wasn't in a state where I didn't know what happened, but you don't think of how your actions, when you're drunk, can have an affect on your life,' Mrs. Warner said of the infamous toilet incident at the Clovelly Hotel in 2008.