'BCCI planned to shame India on national television'- Angry fans demand the cancellation of the Delhi T20I
Meanwhile, all the schools in Delhi have been closed till November 05 in the wake of a National health emergency.
Updated - Nov 3, 2019 4:53 pm
164.4K Views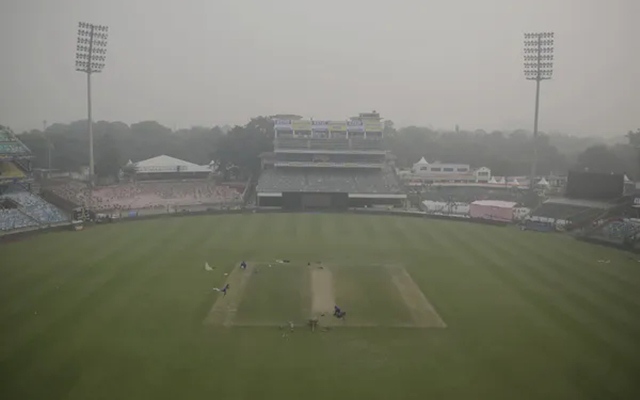 Follow us on Telegram
India is all set to take on Bangladesh in the first Twenty20 International at the Arun Jaitley Stadium on Sunday, November 03. But, the signs of it happening does not look very encouraging. The National capital has turned into a gas chamber thanks to a plethora of factors like stubble burning in the adjacent states of Haryana and Punjab.
The National capital witnessed rain early Sunday morning but it seems that the showers have made things, even more, worse than they were. The Air Quality Index in the city went down to an all-time low- 1164- and the calls have increased towards the Board of Control for Cricket in India to call-off the first Twenty20 International.
The BCCI has come under heavy scrutiny and criticism for scheduling the match at this time of the year in the national capital. According to the apex cricketing body, it was forced to schedule the game in Delhi courtesy its rule of regulating the venues on a turn-by-turn basis.
'Have some shame'- Fans lash out at the BCCI
Earlier the environmentalists had written to the newly-elected BCCI President and former Indian captain, Sourav Ganguly to consider shifting the first T20I between the Men in Blue and the Bangladeshi Tigers from the Arun Jaitley Stadium, a wish that was turned down by the apex-body chief citing it was not possible to shift the game at the last moment.
With images of Bangladeshi players practicing with masks, several former cricketers like Gautam Gambhir and Bishen Singh Bedi had put forward their opinion that Delhi should not hold any major sporting event until the issue of pollution is not sorted.
Earlier today reports in ABP news had emerged that the match-referee Ranjan Madugalle will take a call depending on the visibility levels during the match-time. The DDCA officials have also admitted that the morning showers had in-fact worsened the situation and with the visibility being at an all-time low, it will be very difficult to smoothly conduct the match.
And, now with fresh images of the national capital released, fans are calling out the BCCI to abandon the match. Meanwhile, all the schools in Delhi have been closed till November 05 in the wake of a National health emergency and it now remains to be seen whether the officials take a cue and cancel the first T20I or not.
Here is how Twitter lashed out
Have some shame & abandon it. @SGanguly99 @BCCI

— Maitri Jain (@pull_playlist) November 3, 2019
How will they play when they wont be able to see the ball or where it went ?? 😂😂 #DelhiAirEmergency #IndvsBan

— Rosy (@rose_k01) November 3, 2019
BCCI planned to shame india on live television 😂😂😂😂😂

— அன்பு💕💝 (@anbu2089) November 3, 2019
The match should be cancelled at earliest. This will bring nothing but embarrassment for India. It is impossible to come out in this scenario, let alone playing out. Leave you money mindness behind @BCCI @AmitShah @KirenRijiju @SGanguly99 and think for betterment.

— Siddharth Patni (@aageSeLeftLelo) November 3, 2019
Ganguly failed in his first test as a BCCI President. Had he been sensible, he should have shifted the match venue to any other place in West/South.https://t.co/oZByEXvXma

— Virendra (@viren56002) November 3, 2019
They should cancel it.

— Pravesh (@pprraavveesshh) November 3, 2019
How will they play when they wont be able to see the ball or where it went ?? 😂😂 #DelhiAirEmergency #IndvsBan

— Rosy (@rose_k01) November 3, 2019
Ani Camera Man – pic.twitter.com/yobAKRx8eu

— Rohit Vertex Goswami🥳🇮🇳🚩 (@rohit_vertex) November 3, 2019
ye ball hawa me.. or gayab

— Stree 🌈 (@goal_digger__) November 3, 2019
Bowler ball umpire ke sar pe na maar de..

— Keh Ke Peheno (@coolfunnytshirt) November 3, 2019
Koi bevkoof hi aise me match karayega.

— P (@itsallryt) November 3, 2019
Blind cricket 😝

— $oh@m M@zumdár (@SohamMyths) November 3, 2019
Won't be surprised if fielders are wearing helmets fearing losing sight of ball…#INDvBAN#BANvIND

— Crime Master Gogo (@vipul2777) November 3, 2019
They will use LED balls for this match 😂

— MN (@NizzInd) November 3, 2019
Wow the lastest visuals are horrifying and rather than stopping the match BCCI is advertising it shamelessly. Guess health of individuals does not matter anymore..

— Farhana (@FarhanaCvg) November 3, 2019
Follow us on Google News