BCCI wishes Wriddhiman Saha a speedy recovery after a surgery
Earlier today the wicketkeeper underwent a laberal repair surgery in Manchester, England.
Updated - Aug 1, 2018 9:52 pm
409 Views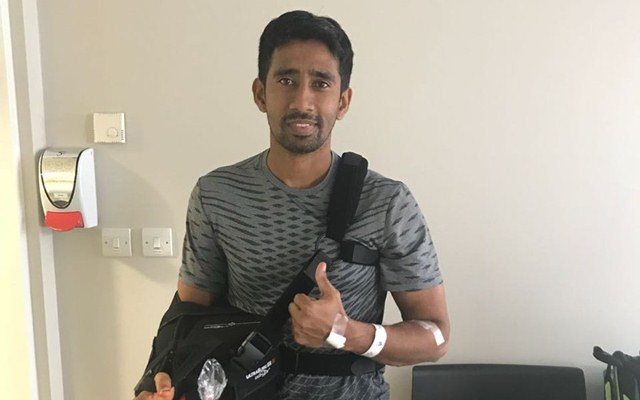 Indian wicketkeeper Wriddhiman Saha suffered an injury grave enough to require a surgery, however, the Board of Control for Cricket in India (BCCI) never shared exact details of his injury and the status of recovery. He returned home after the first Test in South Africa in January this year and has since been out of the Indian team. Saha after featuring in the IPL had to miss the Afghanistan Test as well as the tour of England due to an injury.
Earlier today the wicketkeeper underwent a laberal repair surgery in Manchester, England and is expected to undergo rehabilitation after coming back to India. Saha had hurt his hamstring in South Africa but when he reported at the National Cricket Academy (NCA) in Bangalore he also complained of shoulder pain. A laberal tear was detected in scans and he was advised to take three injections to recover from it.
A part of the procedure was completed and he was declared fit to play the Indian Premier League (IPL). When he was in Bangalore to play a game, reported at the NCA and told them about the recurring shoulder issue. Midway through the tournament Saha also hurt his thumb, the NCA physio advised his IPL team to complete the rehab on his shoulder and the 33-year-old was brought back into the team after he recovered from the thumb injury.
Saha still had trouble with his shoulder and fell on it twice during the IPL. The NCA after another assessment found that his shoulder was still in the same condition as it was when he returned from South Africa despite taking two injections. He took medical advice from another doctor in Mumbai and received another injection but there was no improvement.
He subsequently didn't make it to the team for the tour of England either and was asked to undergo a surgery. A trainer from the NCA accompanied him to Manchester where he had the procedure carried out today.
BCCI wishes him a speedy recovery
BCCI posted a tweet after the surgery which read: "Here's wishing @Wriddhipops a speedy recovery. He underwent a laberal repair surgery in Manchester today under the supervision of BCCI Medical Team."
Here's wishing @Wriddhipops a speedy recovery. He underwent a laberal repair surgery in Manchester today under the supervision of BCCI Medical Team. pic.twitter.com/V4ZCW7DEJV

— BCCI (@BCCI) August 1, 2018
Before going for the surgery Saha had also put out information on social media and it read:
"So far so good. Going for the surgery today. Thank You for all your love and good-wishes. Would like to thank @BCCI for all the necessary arrangements. Will soon be back on the field!"
So far so good. Going for the surgery today. Thank You for all your love and good-wishes. Would like to thank @BCCI for all the necessary arrangements. Will soon be back on the field! #thankyou pic.twitter.com/2KB7Katydh

— Wriddhiman Saha (@Wriddhipops) August 1, 2018