Ben Stokes could have killed me, says defendant in Stokes pub brawl controversy
The judge Peter Blair told the jury to find Ryan Hale not guilty.
Updated - Aug 9, 2018 8:46 pm
211 Views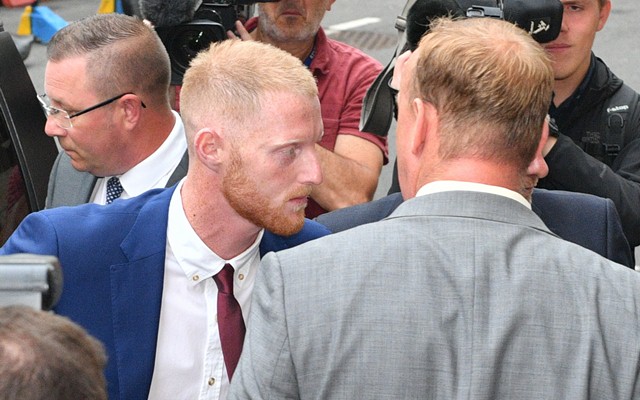 Follow us on Google News
Popular English cricketer Ben Stokes has been in the news headlines for the wrong reasons in the recent times. His involvement in a brawl outside a pub in Bristol last year fetched him legal troubles. He was detained by the police officers in the month of September 2017. As a result of the same, he had to miss out on a lot of international cricket action as well. The English cricket board waited for the legal clearances before naming Stokes in the national side again after almost four months.
In a recent update of the brawl trial, one of the three men involved in the case was declared not guilty by the Bristol Crown Court. When the incident had taken place, a video had surfaced the media that had three men featuring in it – Ben Stokes, Ryan Ali, and Ryan Hale.
As per the recent reports in TOI, the prosecution concluded the case against the three men. The judge Peter Blair told the jury to find Ryan Hale not guilty. He remarked, "I am directing you to find him not guilty in my analysis of the evidence." The video footage showed Ben Stokes knocking Hale down and then knocking out Ali. In a formal interview, Hale told the police that Stokes could have killed him that day.
"I am a dad. He could have killed me. I do not know why he did not stop. He could have beaten the living hell out of me. It is shocking to see someone doing that to someone who did not do anything wrong," Hale remarked.
Two sides of the story
Hale further revealed that he was walking away from the nightclub along with his friends. Two openly gay regulars were also at the club. The video footage had shown that one of the two gay men ended up grabbing Ali's groin. Hale noted that they were not offended and took things in a sporting manner.
"The first thing he did was put his hand on my knob. I am an ex-soldier, to me it is banter. It did not offend me at all. He was pinching my arse and I grabbed him and said 'You are coming home with me'. He said 'Just because I am gay does not mean I am going home with any other bloke'. I was like, it's fine, no problem, and carried on walking." Interestingly, Ben Stokes, in his statement, had mentioned that he intervened because Hale was abusing two of his gay friends.
For all the latest cricket news and other updates follow CricTracker.
Follow us on Telegram