Best Finisher, Wicket-keeper, Captain many roles one man MS Dhoni
Updated - Mar 16, 2014 3:34 pm
360 Views
Mahendra Singh Dhoni better known as MSD or Dhoni in cricketing circles and lovingly called Mahi by friends and family. He has many names to be called with similar to the roles he plays for India with bat gloves and the captain's hat. Dhoni comes in to bat lower down the order at no. 6 or 7 when the team is under pressure on most occasions to score runs and runs at brisk pace. Keeps wickets for the entire bowling innings, add to it the pressure of Captaining Indian cricket team and you know why he has that Salt and Pepper beard look on his face.
Before Cricket
A lot has been said and written about Dhoni but one can simply not fail to notice the way he has rose above rank to be a cricketer in first place. Working as a Train Ticket Examiner with the Indian railways with a dream of playing for India idolizing Sachin Tendulkar. This young man had a journey to tell since then, making a place into the Railways team for the Ranji trophy and then into India A. Impressive performances for India A got him his break through into the Indian seniors team. An attacking batsmen and a sound wicketkeeper was what India was looking for long and no one after Rahul Dravid could do it with effect having tried and failed on several occasions Dhoni's induction into the team was a welcome change.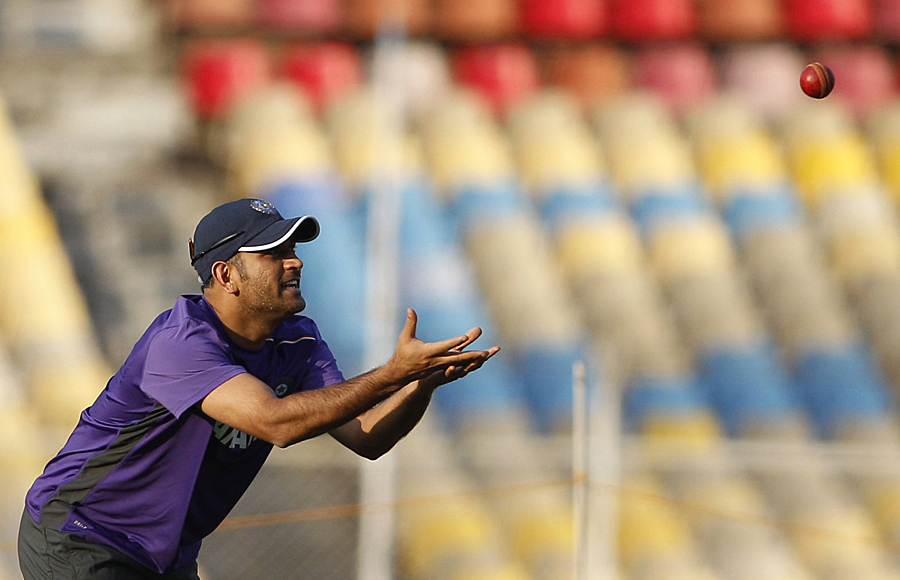 Follow us on Telegram
Roles
Dhoni as a batsman
A right-handed attacking batsmen bat's usually at number 6 or 7, one of the best stroke makers and worlds best finisher (voted) he can hit you out of the park at will. His records in limited over's cricket speak for themselves, averaging over 100 in successful run chases justifies his crown. Has the record for fastest 7000 runs as a wicket keeper batsman, highest score in an inning by a wicket keeper batsman. Having the ability to stay calm in pressure situation and saving the best for the last playing his strokes and best of the innings against the fiercest bowlers defines MS Dhoni for you.
Batting and fielding stats
| | | | | | | | | | | | | | |
| --- | --- | --- | --- | --- | --- | --- | --- | --- | --- | --- | --- | --- | --- |
| | Mat | Inns | NO | Runs | HS | Ave | SR | 100 | 50 | 4s | 6s | Ct | St |
| Tests | 83 | 130 | 15 | 4459 | 224 | 38.77 | 60.07 | 6 | 29 | 484 | 76 | 226 | 37 |
| ODIs | 243 | 214 | 63 | 8046 | 183* | 53.28 | 89.24 | 9 | 54 | 625 | 175 | 224 | 80 |
| T20Is | 43 | 40 | 16 | 772 | 48* | 32.16 | 114.88 | 0 | 0 | 53 | 20 | 22 | 8 |
| Twenty20 | 163 | 147 | 49 | 3494 | 73* | 35.65 | 134.69 | 0 | 15 | 256 | 135 | 82 | 36 |
As Wicket-keeper
Dhoni has the most dismissals for an Indian wicket keeper. His efforts behind the wicket are not given the due acknowledgement it requires, one of the quickest stumpers he is a stand out performer with gloves on hand as well. Before Dhoni India had always struggled for a stable wicket keeper who could contribute with the bat too, since his arrival the problem seems to have just vanished.
As a Skipper
A squad of youngsters lead by a long haired thrash buckling wicketkeeper batsman was sent to the inaugural T20 World Cup this was Dhoni's first assignment as captain of Indian team. The team performed exceptionally well and won the tournament, becoming first ever twenty 20 champion India's second World cup after Kapil Dev won them the first in 1983. He went with the gut feeling and played a few gambles which paid off and India had a new skipper who could win them tournaments which lacked in Ganguly era. Later on he was given ODI responsibility success there made him Indian skipper in all the three formats after Anil Kumble hung his shoes. India eventually won the Border-Gavaskar trophy.
Right from the first match he had senior pro's and legendary cricketers to captain Sachin, Dravid, Ganguly, Laxman, Sehwag, Harbhajan, Zaheer already were renowned players and he took them all together with youngsters to form a team who could win. The team enjoyed each other's success and went on winning form places to places becoming the no. 1 Test team. India also won the ODI World Cup in 2011 after 28 years. Recent success came when they won the last version of the Champions Trophy in England in 2013. He also captains Chennai Super Kings franchise in the Indian domestic T20 league where they have made it to the knock-outs every time and won the championship twice. They have also won the Champions League T20 once.
The man with Midas touch, a Good captain of the Best Indian team, Lucky is a few terms used to describe him as a skipper by critics. An answer to it by us is 'You need to be wise to use your Midas touch, only an able commander can lead a good unit, Luck favors' the brave.'
India's most successful skipper in all the formats Dhoni is undoubtedly the best Indian captain. Stats speak more for him than words.
Captaincy record
Captaincy Record in Test Matches
Venue
Span
Matches
Won
Lost
Tied
Draw
At Home Venues
2008–2013
30
21
3
0
6
At Away Venues
2009–2014
22
5
11
0
6
TOTAL
2008–2014
52
26
14
0
11
Captaincy Record in One Day Internationals
Venue
Span
Matches
Won
Lost
Tied
N/R
In India (At Home Venues)
2007–2013
60
36
20
1
3
At Away and Neutral Venues
2008–2013
94
52
33
2
7
TOTAL
2007–2013
154
88
53
3
10
Captaincy Record in Twenty20 Internationals
Venue
Span
Matches
Won
Lost
Tied
N/R
In India (At Home Venues)
2007–2013
10
5
5
0
0
At Away Venues
2007–2012
13
5
8
0
0
At Neutral Venues
2007–2012
19
11
6
1
1
TOTAL
2007–2013
42
21
19
1
1
Under MS Dhoni Captaincy
India played 34 ODI series : Won 20
India played 21 Test series : Won 12
India played 19 T20 series : Won 6
Controversies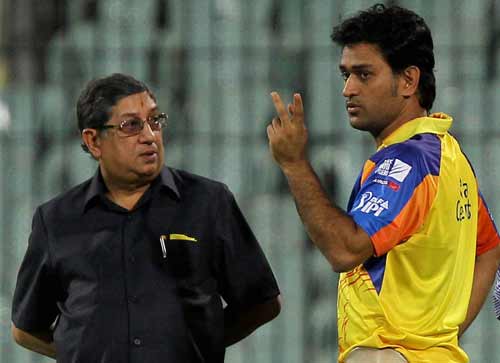 A calm head above his shoulders has ensured him very few controversies throughout his International career. The biggest of them all being the IPL spot fixing and match fixing scandal where directly and indirectly his name has been dragged as the team CSK he plays for had its team principal arrested for the same. Dhoni is known for his closeness with BCCI chief N Srinivasan, who also made him Vice President of his company India Cements. Dhoni's stake in a sports management company was also questioned.
Uniqueness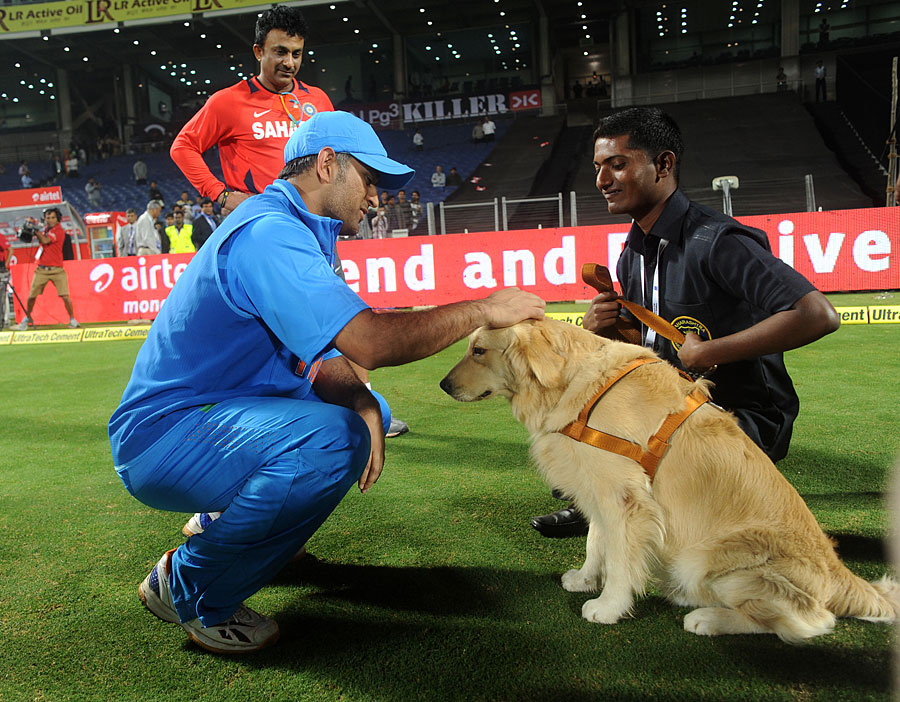 Fans not only copy his batting style but also his hair style, changing across formats, tournaments and according to roles. General Musharaf ex-Pakistan President being a fan too something which was earlier associated with bollywood stars.
Dhoni has a motor biking team Mahi Racing team India showing his love for bikes and biking.
His love for dogs and pets is evident as Dhoni has 7 dogs staying with him at his residence.
Forbes ranked Dhoni at 16th position in the list of highest paid athletes in the world, estimating his earnings to be $31.5 million.
Dhoni has been awarded with the honorary position of Lt. Colonel in Territorial Army.
Dhoni has been the recipient of many awards including the ICC ODI Player of the Year award in 2008 and 2009 (the first player to win the award twice)
The TIME magazine has added Dhoni in its "Time 100" list of 100 most influential people in the year 2011.
A close look into MS Dhoni's life, career, achievements a tribute from a fan to his inspiration hoping he reads it someday would be the highest acknowledgement he can receive.
Follow us on Google News