Bharat Army hops onto Rohit Sharma and Ritika's shopping basket
Rohit is missing Ritika and would've wanted her to be there by his side.
Updated - Feb 2, 2019 8:38 pm
2K Views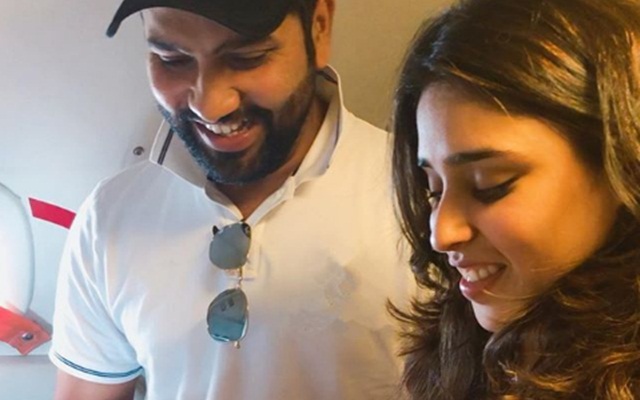 Rohit Sharma didn't have a very good start to his captaincy reign in New Zealand. Skipper Virat Kohli was rested for the last two ODIs and the T20I series after he led India to an unassailable 3-0 lead in the ODI series as a result Rohit took over the leadership. He captained the Indian team in the 4th ODI and they were routed for 92 runs, losing the match by 8 wickets.
The loss would have hurt Rohit even more, as it was his 200th ODI match for India and he would have liked to celebrate it by winning the match. The next and last ODI is scheduled to be played on Sunday, 3rd February, the Indian team has some time on their hands in Wellington.
In a busy schedule, professional sports players and especially, cricketers rarely get time to spend with their families. While most of the times the Wives and Girlfriends, even family members, try to travel with their better halves and spend time together, it is something that is not always possible.
Rohit would feel that the most, given that he and his wife Ritika welcomed a baby girl in December of 2018. He was with the Indian Test team at that time on tour of Australia. He later flew back to India to be with Ritika and see her new baby girl and the duo has named her Samaira.
Now, with Ritika taking care of the baby, she couldn't come to New Zealand to accompany her husband and missed her presence while shopping in a supermarket in his free time.
In his latest Instagram post, Rohit posted a picture of his latest outing and wrote a caption while sharing his feeling for his wife Ritika. He wrote, "Supermarket shopping without the wife is a disaster, one of the many reasons I miss her."
Ritika saw the post and replied with a cute 'Awwww'. However, unlike some of the cuddlier comments, the Bharat Army had some other thoughts on their mind, as they decided to have a little fun at Rohit's expense.
The Bharat Army focused on the items in the shopping cart and saw that Rohit had a load of eggs and commented, "That's a lot of eggs @rohitsharma45- you baking a cake!"