Bhuvneshwar Kumar's search for light at the end of the tunnel in Test cricket
With the Shamis, Ishants and Bumrahs racking records with authority, Kumar's future in the format remains 'blur'.
Updated - Jan 16, 2019 12:25 pm
258 Views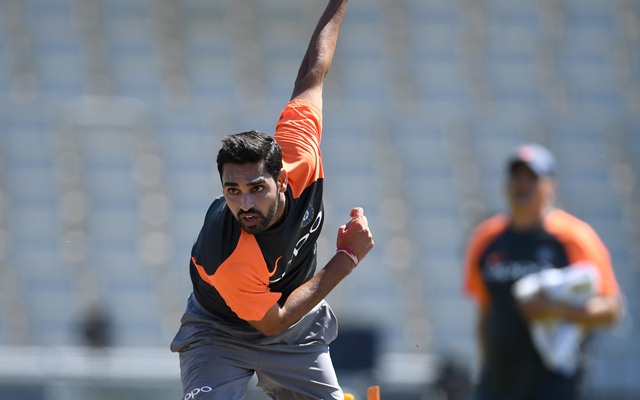 "I've been hopelessly clutching up for something I can hold, I've been lying in the dark with no light in my soul, I've been rummaging around in the rain and the cold, I've been searching for diamonds in a pile of coal"
In the song 'Heart to Love', released last year, Michael David Rosenberg, popularly known as Passenger, tried to narrate the travails of a person, who's optimistic and brimming with oomph and exuberance, but there's a sense of pessimism, lurking around the mind, that tries to dictate terms, so much so that even luck refuses to smile on him/her. This was Indian fast bowler Bhuvneshwar Kumar in the year 2018.
Maybe not a forgettable one in limited-overs cricket, however, the erstwhile year was equivalent to a nightmare for Bhuvi as far as Test cricket is concerned where he could play in only a couple of games out of 14. Ever since he made his debut in 2013, India have played 65 Tests out of which Kumar has featured in just 21 of them. A bowling average of 26.09 and a strike-rate of 53.1 aren't meek numbers.
If performance wasn't an issue, then where did it go wrong for the speedster? Or was it the case of the rub of the green not going his way?
Not every morning shows the day  
It started at the Newlands in Cape Town on a pitch, deemed to be a fast bowler's paradise, ask Vernon Philander, who has 51 wickets at the venue. Bhuvneshwar is pretty similar to the Proteas' pacer if not a copycat. After the hosts won the toss and elected to bat, the 28-year-old inflicted utter hara-kiri in his first three overs, sending back Dean Elgar, Aiden Markram and Hashim Amla within a blink of an eye.
India lost that game by 72 runs. Nevertheless, the world seemed all the more beautiful for Bhuvi as he wasn't only the visitor's most positive bowler with six wickets, but also one of their more successful batsmen, having played out 127 deliveries on a strip where Philander, Kagiso Rabada, Morne Morkel bayed for blood. Luckily, India didn't have to play Dale Steyn in the second innings as he injured his calf.
Next match, SuperSport Park, Centurion, Kumar gets dropped and in came Ishant Sharma. Though the latter justified his inclusion with some crucial scalps, the exclusion of Bhuvneshwar remains an unsolved mystery even after a year. Virat Kohli and Co lost that match by a bigger margin (135 runs). The seamer returned at the Wanderers in Johannesburg and showed why his exclusion was a 'MISTAKE'.
We weren't even through with January of 2018 but we were definitely with Bhuvi's Test errand in 2018.
Injury plays hide and seek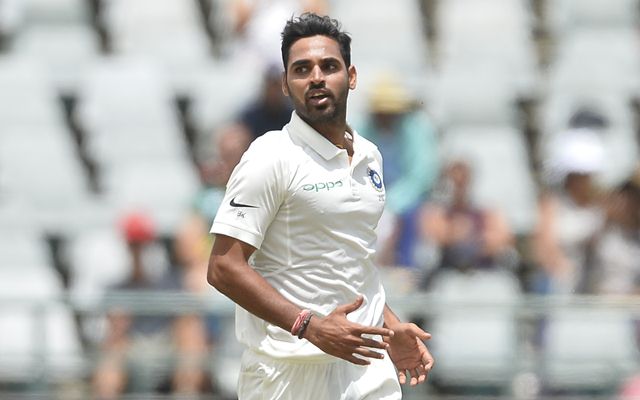 The Indian Premier League (IPL) where he represented Sunrisers Hyderabad (SRH) gave a glimpse into the upcoming developments, but they weren't grave enough to ring the alarm bells for Bhuvi. The Meerut-born pacer sat out for five out of the 17 matches owing to a stiff back. His omission wasn't much of a concern, it was his numbers in those 12 matches that furrowed many eyebrows.
He picked up nine wickets at a strike-rate of 30.07 and an average of 39.33. The figures were the worst for those who played 10 or more games for SRH last season. Bhuvi was far from his best as his career average shows 22.44 and strike-rate of 18.82. Not to forget the game against Delhi Daredevils, now Capitals where Rishabh Pant scored 43 runs off his bowling in 11 balls as he ended up giving 51 runs.
More misery awaited him
A half-fit Kumar went to England and ended up aggravating the injury in the third ODI at Leeds in Headingley. He barely touched the 120 kmph mark and looked terribly out of form and fitness. He resorted to bowling the shorter stuff and didn't want to pitch it full which would strain his back. Earlier, in a T20I at the Sophia Gardens in Cardiff, he was unable to defend 12 runs as Alex Hales smacked him for a six and a four in the first two balls of the final over to help the Three Lions to a five-wicket victory.
Subsequently, he was left out of the first three Tests against the Brits. Bhuvneshwar was too stubborn to not let the situation overpower him. He attained fitness, played for India 'A', notched figures of 9-1-33-3 against South Africa 'A' in the quadrangular series in Alur. Unfortunately, even as his counterpart Jasprit Bumrah made a comeback midway through the Test series, Kumar couldn't quite make the cut in time.
After he played the Asia Cup that followed the England Test series, he was rested for the two-match series against Windies and the Board of Control for Cricket in India (BCCI) cited managing his workload as the reason for leaving him out, something which didn't please former India cricketer Sunil Gavaskar, who felt that breaks should be for limited-overs internationals and not for a format like Test cricket.
The nightmare continues in Australia
Following the break, Kumar was back for the four-match Test series in Australia. India went to the tour with as many as five specialist fast bowlers. It wasn't a surprise that Bumrah, Mohammed Shami and Ishant Sharma would be the visitors' first preference. Prior to the tour, Ishant had a bowling average of 62.15 in 10 Tests on Australian soil. Yet the Delhi-born was selected bearing in mind his record in 2018.
In Adelaide, Virat Kohli's men played the trio and it paid dividends. However, the nature of the strip in Perth and a few injury concerns made the Indian team management wear its thinking hat. It was a question of who among Umesh and Bhuvi would be the fourth seamer. Umesh got the nod ahead of Kumar, who despite being in the 13-man squad for the match, couldn't end up being in the eleven.
The second Test would've dented his confidence to a significant extent as he turned out to be the least-preferred fast bowler on the tour. India were back to basics in the third and penultimate Test as they went in with three pacers and Ravindra Jadeja to accompany them. The deck in Sydney turned out to be conducive to spin-bowling and Chinaman bowler Kuldeep Yadav replaced an injured Ishant.
In the meantime, Bhuvneshwar continued to get ignored, he was nowhere to be seen!
Another long wait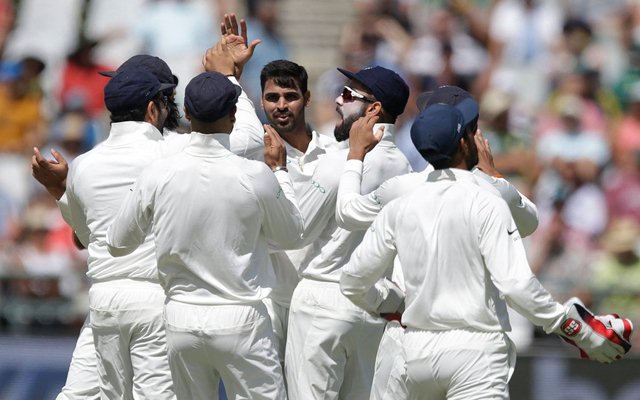 Earlier in his career, limited-overs cricket would betray the Uttar Pradesh-born as he had more limitations than strengths, but he conquered all his weaknesses, weathered the storms and made sure that he cements his place in the national side. From Test cricket's perspective, he has encountered many hurdles and the journey ahead isn't expected to get any easier for him by any stretch of the imagination.
2018 could've been worse for him and he could've ended up playing one less Test than he eventually did. In the Cape Town Test against South Africa, Ishant was India's first choice bowler and he couldn't take the field and picked up a headache before the match owing to which Bhuvneshwar got an opportunity. From the cricketing viewpoint, Sharma's illness turned out to be a blessing in disguise for India.
After all the overseas tours, IPL, and the World Cup in England and Wales, India are next scheduled to don the white jersey when they tour the West Indies in July and August, which means, Bhuvi has to wait for seven months in order to harbour thoughts of playing Test cricket. With the Shamis, Ishants and Bumrahs racking records with authority, Kumar's future in the format remains 'blur', without a doubt.
Not everyone you love will love you back. Bhuvneshwar Kumar would be praying that 'TEST CRICKET' isn't one of those.