Brian Lara was worried that I'll break his record: Chris Gayle
Updated - Jun 13, 2016 8:31 am
28 Views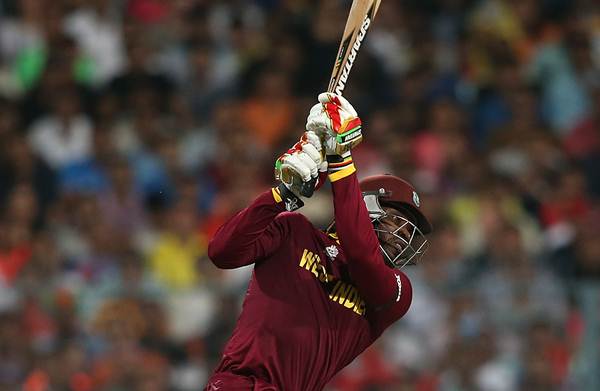 Follow us on Google News
Chris Gayle has come up with an interesting revelation in his autobiography 'Six Machine: I Don't Like Cricket…I Love It'. The Jamaican giant has reportedly revealed that West Indian great Brian Lara was worried about him shattering his record-breaking 400 not out during a Test in 2005.
Gayle, known for his swashbuckling batting, has 2 triple tons in the longest format. His first came against South Africa at Antigua in the year 2005. Gayle mentioned that Lara was keeping a constant tab on the scoreboard and looked increasingly worried as the former progressed in his innings. Gayle made an epic 317 in the match.
"Some players do care about records. When Brian Lara was out for four in that match, he sat in the dressing-room and read a book. Occasionally he would go out onto the balcony and check the scoreboard, then go back inside," wrote Gayle in his autobiography.
He added, "(Ramnaresh) Sarwan was watching him, because he was wondering. And every time Brian came out to see my score getting closer to his record, he looked more and more worried."
Also, Read – James Anderson reprimanded for disrespecting umpire S. Ravi
Chris Gayle also speaks about how received no advice or encouragement whatsoever from the West Indian legend during his memorable knock.
"When I came in for lunch and tea he didn't say anything to me. No advice, no 'Keep it going,' no 'Do it for the team.' When I went back out he would go back to that slow shuttle: read inside on his own for a bit, come out to check my score, look worried."
Gayle also expressed his happiness about playing the game and making people happy.
"I am the Six Machine. Twice as many T20 sixes as the next man, the highest score, the highest average, the most runs. More international one-day centuries than Brian Lara, more Test matches than Ian Botham, more Test catches than Clive Lloyd. I enjoy every day, and I make people happy."
Also, Read – MoneyBall 9 Fantasy guide: Zimbabwe v India 2nd ODI
Apart from this, the left-hander also clears the air about the general perception that he is an arrogant cricketer.
"Maybe they misinterpret things. Maybe it's the way I bat," he writes, "I play a lot of shots, and sometimes I get out. Maybe they think I don't care. Maybe that's how it looks on television, or through the pages of an old coaching manual. I play my shots and I get out. I get out on 40 so they say I don't care as much as the man who gets out on five."
About how he loves to be involved with the game, Chris Gayle writes, "As a cricketer my energy comes from being in the middle. If I can't bat, then give me the ball."
Follow us on Telegram