'Bring back Dhoni' – Twitter slams Rishabh Pant for his amateur wicketkeeping
Eventually, Pant himself affected the run-out to send Liton Das back to the pavilion.
Updated - Nov 7, 2019 7:57 pm
68.6K Views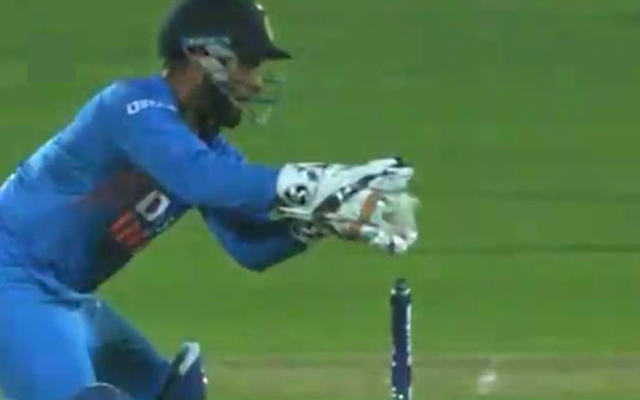 Rishabh Pant was the name being discussed a lot ahead of the T20I series between India and Bangladesh. We are almost halfway into the three-match series and the youngster is still the talking point for all the wrong reasons. If it was his batting which was in focus until now, Pant made a grave mistake behind the stumps in Rajkot to raise even more eyebrows about his keeping skills.
After opting to bowl first, India would've hoped to make early inroads. But Liton Das and Mohammad Naim got Bangladesh off to a great start thanks to Khaleel Ahmed dropping it short with the new ball. The left-arm seamer went for 24 runs in his two overs which led to Rohit Sharma introducing Yuzvendra Chahal into the attack only after five overs.
Chahal strikes but Rishabh Pant commits a grave mistake
The Indian leg-spinner struck immediately in his first over. Liton Das stepped out after the bowler flighted the ball. The batsman heaved without reaching to the pitch of the ball and missed it completely. Rishabh Pant sensed an opportunity and stumped Das easily. At the real-time, it looked like the wicket-keeper did his job perfectly but the third umpire was called upon for a unique reason.
The on-field umpires felt that Rishabh Pant had collected the ball ahead of the stumps. And the third umpire Anil Chaudhary looked at the replays carefully and repeatedly to come to a conclusion. He finally decided to rule Liton Das not-out and going by the rule books, it was also deemed a no-ball with the free-hit being awarded to the opposition.
It was a huge mistake from Pant who was expected to be aware of the rule and though his gloves weren't much ahead of the stumps, it was enough for the TV umpire to make his decision. To add salt to the wounds, Liton Das smashed the next two deliveries to four to end the over on a high. Twitterati was livid with this mistake from Rishabh Pant and slammed him for the same. Das, however, was run-out soon after scoring 29 runs.
Here's how Twitter reacted:
#RishabhPant messes up !! 🤦🏻‍♂️🤦🏻‍♂️🤦🏻‍♂️ pic.twitter.com/3rEVqnNG7Z

— Nishant Barai (@barainishant) November 7, 2019
Rishabh Pant trying to replace MS Dhoni be like #INDvBANpic.twitter.com/9vDaZXqKvO

— Sanjay Singh (@sanjay_2044) November 7, 2019
Did anyone miss #Dhoni here 🙂 Mistakes happen, but #Pant doesnt have too much credit left from his critics or stoutest backers…
Law says every part of wk glove has to be behind the stumps… #IndvsBan #INDvBAN pic.twitter.com/RLabGGxBea

— G. S. Vivek (@GSV1980) November 7, 2019
MS Dhoni to #RishabhPant#INDvBAN pic.twitter.com/VINqxukmG1

— ROHAN MISHRA (@im_rohanmishra) November 7, 2019
Rishab Pant is just not ready for international cricket. Too amateur. India needs a proper wicket keeper.#rishabhpant#rishabpant#INDvBAN pic.twitter.com/W0Rsu8W0uk

— Sameer Joshi (@JoshiSamyr) November 7, 2019
Thats why #dhoni is necessary for indian team till next 10 years also…. #badwicketkeeping by #Rishabhpant #indvsbang

— Sunil2308 (@Sunil23082) November 7, 2019
can i drop rishabh pant at his home
this guy deserves to sit at home#INDvBAN

— Darshan (@deekuonfire) November 7, 2019
Should Rishabh Pant leave keeping and focus on his batting? #Askstar #indvsban

— RAHUL BHATTER (@ImRahulBhatter) November 7, 2019
We have
1. #MSDhoni
2. Wriddhiman Saha
3. Dinesh Karthik
Sitting & we are giving infinity chances to #RishabhPant. #IndvsBan

— Saurabh Kumar (@skumar_dl999) November 7, 2019
Don't understand why #RishabhPant get into Indian Cricket Team when #WrddhimamSaha is clearly a 100 times better wicket keeper than him.

— Sangram Sinha (@sangram_sinha) November 7, 2019
Rishabh Pant and His Wicket Keeping Skills! 😤😤😤#IndvsBan #Pant #India pic.twitter.com/ic9lrqIqWw

— Pugazhendhi ❁ (@pugazhendhii) November 7, 2019
It is a shame to believe that Rishabh Pant is the future of Indian cricket team and the @BCCI is willing to give him so many chances inspite of having so much proven talent available ! #IndvsBan #bcci

— Lavin Chanchlani (@iamlavin1) November 7, 2019
Rishabh Pant in the dressing room today after today's wicket Keeping..#IndvsBan pic.twitter.com/xSdno9Vp5H

— Prashant Shridhar (@prashantshridh1) November 7, 2019
@RishabhPant17 is kamran akmal of india🤣🤣 #pant #rishabh #rishabhpant pic.twitter.com/DXYWmT1MFx

— Shivam Patel (@shivampatel1470) November 7, 2019
MS Dhoni after watching Rishabh Pant's wicket keeping#IndvsBan pic.twitter.com/zCZsNdcGEk

— Right Arm Over (@RightArmOver_) November 7, 2019
Difference between Ms Dhoni and Rishabh pant#INDvBAN #IndvsBan pic.twitter.com/LzneonlG0O

— Tusharboy (@Tusharboy9) November 7, 2019
#dhoni sir kindly teach #rishabhpant basic wicket keeping. pic.twitter.com/73VPP004gr

— Aniket Thakur (@Aniket_Thakur) November 7, 2019