Broadcasters had rightly displayed Shahid Afridi's age as 21, not 16 during his debut ODI innings
The video is going viral.
Updated - May 3, 2019 4:33 pm
2 Views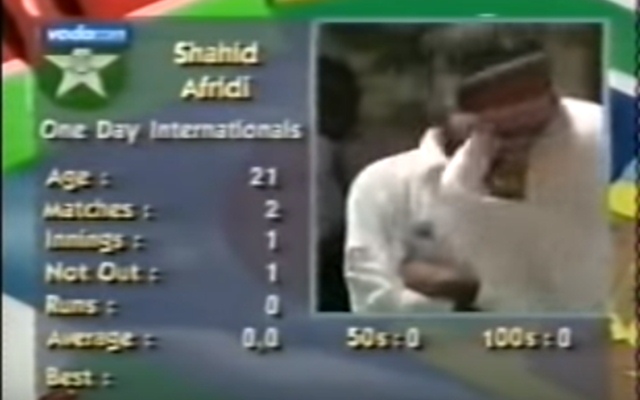 Follow us on Google News
Shahid Afridi has made some startling revelations in his autobiography 'Game Changer'. One of them which is making headlines is his age. Afridi himself has revealed that he wasn't 16 years old when he hit the century in the ODI format back in October 1996 on his debut. The game was against Sri Lanka which was played at the Gymkhana Club Ground in Nairobi.
In his book, Afridi has clearly stated that he was born in 1975 and not in 1980. According to that, he should be currently 44 years old and the record of the youngest to score a century shouldn't belong to him. Afridi has, moreover, claimed that he was 19 years old when he scored the famous century and not sixteen which has confused a lot of people.
"Also, for the record, I was just nineteen, and not sixteen like they claim. I was born in 1975. So, yes, the authorities stated my age incorrectly," the statement from the book read.
Video going viral
Ever since Shahid Afridi has revealed his real age in his autobiography, the video showing his 37-ball ton is going viral. The fans are going through it yet again to confirm and a shocking thing has come up in the process. The broadcaster of the series played in Nairobi when the former Pakistan cricketer slammed a century, had shown his age as 21.
Many are perplexed now with the fact that how did he manage to become the youngest to score a century then? If the broadcasters had displayed the age correctly, then why and when was the age changed? Well, a lot of questions are surfacing regarding the matter and only Afridi can answer those. Moreover, his claim of scoring a century while he was 19 is confusing.
Now it remains to be seen if any action is taken officially on the cricketer or it will remain only a matter of gossip for a few days.
Here's the video where broadcasters has shown his age 21:
Follow us on Telegram