Buttler's potential is as good as anybody's: Eoin Morgan
Updated - Jul 6, 2016 6:31 am
33 Views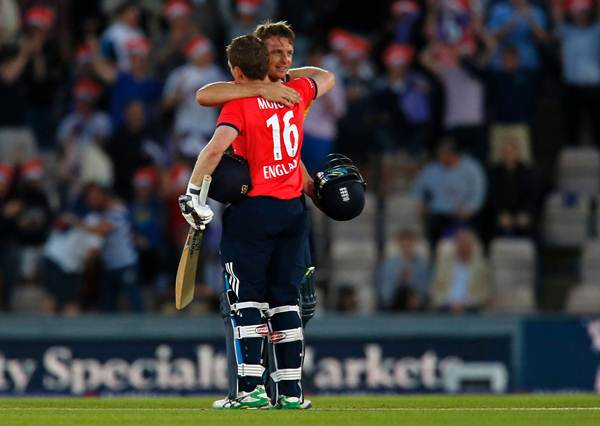 Jos Buttler powered England to an easy win in the only T20I of the series against Sri Lanka after opening the batting in the absence of Alex Hales. England skipper Eoin Morgan praised the wicketkeeper batsman for his scintillating run in the series.
Buttler scored an unbeaten 49-ball 73 in the chase of 141 as England won the match with 15 balls remaining. Eoin Morgan had a cheeky reply when asked whether Buttler is threatening Hales's place in the playing XI. "Alex is sitting on a beach in Ibiza at the moment so I'm not sure he cares," joked Morgan.
"It's great to have Jos in the side, he's absolutely world class and his attitude to say 'I'll take it on at the top of the order' sums him up, he's a team player."
"It's certainly something we'd consider again. Trying to get the best out of this guy, you don't know what his limits are because he's that good. His potential is as good as anybody's around the world really," the England skipper added.
Delighted to take the opportunity: Jos Buttler
Buttler said that ahead of the match, he was asked whether he would like to open the batting. He was delighted to grab the opportunity and he said that he enjoyed every bit of it. "I really enjoyed it. I was asked yesterday if I'd like to go for it and was delighted to take the opportunity," the 25-year-old told Sky Sports after the game on Tuesday.
He said that he didn't have to change his approach much, and batting second helped him learn the nature of the wicket. "I didn't massively (change my approach), speaking to a few of the guys they said just play strong shots. It's a different rhythm, you might face a few more dot balls. But it helped batting second and seeing how the wicket played."
"I wouldn't say they (Sri Lanka) were way short but maybe under par. 160 would have been a decent score on that wicket. Usually, you come here and the outfield is rapid and it is a fantastic wicket but because of the weather it was probably a bit slower than usual," he added.
Angelo Mathews praised Buttler:
Sri Lankan Angelo Mathews skipper praised Buttler and said that either batting, bowling or fielding had let them down in every single game on the tour. "Either batting, bowling or fielding has let us down in every single game on this tour". Sri Lanka lost the Test series 2-0, ODI series 3-0 and the T20I series 1-0, which sums it up to a total of 6-0.
"Buttler has been getting runs against us every single time and it is worrying. No matter what number he bats he's a very good player. He's a 360-degree player, and he's a nightmare for the bowlers." Mathews concluded.