'Can we get rid of the soft signal now' – Ben Stokes calls for a change in rule
England and South Africa will play the final T20I of the series on Sunday.
Updated - Jul 30, 2022 9:19 am
5.4K Views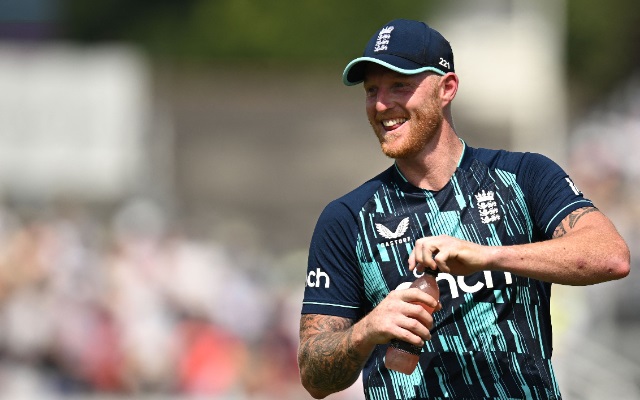 Follow us on Google News
In response to England's 58-run loss to South Africa in the second T20I in Cardiff on July 28, Ben Stokes has called for the abolition of the "soft signal" rule. The Proteas were victorious thanks to an outstanding effort by Rilee Rossouw, who notched up an unbeaten 96 off just 55 balls, but English skipper Jos Buttler contended that Rossouw should have been dismissed when he was on 37.
Buttler, England's wicketkeeper, dived across and thought he had taken a clear catch after Rossouw gloved a delivery by Chris Jordan down the leg side. Buttler went for a review after the umpire declared Rossouw not out. Although the ball seemed to bounce just as Buttler was catching it on the slowed-down replay, it appeared in perfect sync, which indicated that he had made a clean catch.
The third umpire subsequently declared Rossouw not out as well, and the 32-year-old went on to play the game-winning innings. By responding to the incident on Twitter, Stokes opted to highlight the fact that the third umpire made his judgment without being influenced by a "soft signal" from the on-field umpires rather than express his judgment on whether Rossouw was out. He tweeted-
"Ohh 3rd umpire makes a decision without a soft signal..so can we get rid of the soft signal now….PLEASE!"
Ohh 3rd umpire makes a decision with out a soft signal..so can we get rid of he soft signal now….PLEASE! https://t.co/9D4Z8St05X

— Ben Stokes (@benstokes38) July 28, 2022
The umpires typically analyse catches like the one Buttler pulled, giving the third umpire a "soft signal" to suggest whether they believe the ball bounced or not. The third umpire must then produce convincing evidence to refute the "soft signal," which is typically challenging given that television replays only offer a 2D image.
I thought I had it, but the people who matter disagreed: Jos Buttler
Catches near the ground frequently appear to imply that the ball landed first because they dynamically resize and flatten the picture. However, there was no "soft signal" in this instance because Buttler looked it over and assumed the umpire did not think Rossouw had actually hit the ball.
"I thought I had it. But the people who matter disagreed. It's frustrating to have lost, and we are trying and working hard to be more consistent, but we've not managed to string our best games together. Sunday is a pressure game and will be a good test for where we are as a team. We haven't won a series yet this summer which we are not accustomed to," said Buttler in the post-match presentation.
Follow us on Telegram