'Can we move on from that?' – Mithali Raj on questions over controversy with Ramesh Powar in 2018
Both Mithali and Powar sounded confident of taking women's cricket to another level starting with the England series on June 16.
Updated - Jun 2, 2021 11:12 am
1.6K Views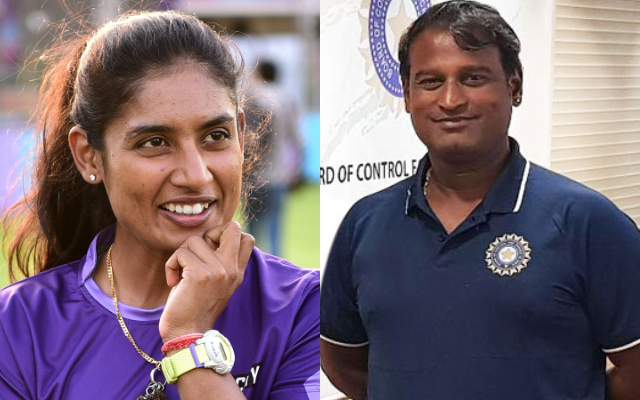 Follow us on Google News
Mithali Raj has seen all the ups and downs in her glorious 20-year-old career with Team India. She has also been the captain since 2004 and is still taking charge of the ODI and Test team. During her time, she has had a lot of memorable moments to cherish and few not-so-good moments to remember.
During the 2018 ICC Women's T20 World Cup she was unceremoniously dropped by the then coach Ramesh Powar during India's semi-final against England. The issue went public with Mithali and Powar at loggerheads and led to the latter being not reinstated as coach again.
Three years later, Powar is back and the media can't get enough of the fact that how the two will work again. Apart from being a charismatic leader and stylish batter, the 38-year-old is also known to give smart replies to fans and the press who often ask the same questions.
This time the question was related to the same Powar Mithali controversy and the skipper gave a fitting reply to end the matter once in for all.
"Can we move on from that? It's been three years. You are still stuck three years behind, we are in 2021, we should be looking forward to many more series. If you repetitively keep asking the same question, we need to get you back from the past." Raj was quoted as saying in CricketNext.
Powar also opines on Mithali Raj and women's cricket
Powar too echoed the sentiments of Mithali and stated that for him what matters is Indian women's cricket and how it can be improved further by bringing in the required changes. "I would like speculations to stop. We interacted well, otherwise, I wouldn't come back into women's cricket. Everyone goes up after three years. There is a larger goal, big picture – India Women's Cricket, BCCI… we have a responsibility," Powar said.
India are set to begin their all-format tour to England on June 16 by playing a Test match. Powar also stressed the fact that BCCI is trying everything possible to take women's cricket to another level.
"This is a great opportunity for me, Mithali, and the whole group to take women's cricket to another level. BCCI is supporting us. I don't think we are going to go back on these small things, we are professional enough to move on. You all know me. I've been with NCA, I've been with Rahul Dravid, so you know Rahul's effect will play in this series," Powar said.
Follow us on Telegram