'Can't believe it' – Twitter comes up mixed reactions as Rishabh Pant is picked ahead of Saha in Wellington Test
Was it right on India's part to bench Wriddhiman Saha?
Updated - Feb 21, 2020 10:09 am
3.4K Views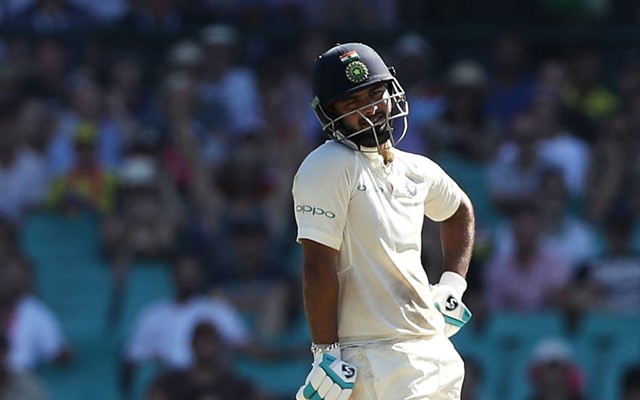 The much-awaited Test series between India and New Zealand got underway on Saturday at the Basin Reserve in Wellington. And once again, the visiting captain Virat Kohli surprised everyone with his selection decision, which has been a topic to discuss whenever India has played Tests away from home in recent times. This time around, it was about Rishabh Pant playing ahead of Wriddhiman Saha after not playing even a game throughout the limited-overs leg of the tour.
The left-hander was left out of the five T20 Internationals and three ODIs early on in the tour. While the likes of Sanju Samson and others got a chance in the dead rubbers, the team management didn't give a chance to Pant which had raised doubts over his international career.
Rishabh Pant took the field for the first time in New Zealand only in the warm-up game ahead of the Test series and failed in the first innings as well.
Rishabh Pant scored a brilliant half-century in the second innings
However, he made amends in the second essay scoring a quickfire 70 off just 65 deliveries. Saha, on the other hand, didn't feature in India A game which was surprising and then bagged a duck in the practice game before scoring a gritty 30 in the second innings. No wonder he was the favourite to make it to the playing XI ahead of Rishabh Pant in the series opener at Wellington. But Kohli and his left-field selection has once again caught many by surprise.
One reason behind the touring team going with the youngster could be his attacking style of play which one might need to make things happen on New Zealand pitches. However, it will be interesting to see if Pant will live up to the expectations. Having said that, the southpaw has centuries to his name in Australia and England and will be itching to make it count in this Test match.
On the other hand, Wriddhiman Saha will be feeling hard done and this also raises a question now if he will be limited to keeping only in India. Meanwhile, early morning in India, the fans came up with mixed reactions after Rishabh Pant got his first chance in the Kiwi nation.
Here's how Twitter reacted:
Rishabh Pant in the team bus #INDvsNZ pic.twitter.com/YNWD3g8xvU

— Gabbbar (@GabbbarSingh) February 21, 2020
Every Preview: Saha will keep
Match Day: Rishabh Pant will keep! pic.twitter.com/HoqVKXMutO

— A man living on Earth® (@RishabPant777) February 21, 2020
Rishabh Pant's batting skills and wicket keeping skills during the match. pic.twitter.com/kMqr1EwrBp

— Sunil- the cricketer (@1sInto2s) February 20, 2020
The biggest disappointment after seeing our test match line up is not to see #SAHA's name on it. #saha is the best wicket keeper in the world and somehow we end up playing #pant

Baffles me. Anyway, #Kohli & his team know more about cricket than me.

However, DISAPPOINTED.

— Prashanth (@YVPRASH) February 21, 2020
Poor from #ViratKohli

"Saha for Home Tests & Pant for Away Tests"
Sounds so Wierd😬

Wanted deep down for Pant to play but didn't expect him to play. But Kohli never disappoints Rohit Fans😉

If shattering Confidence of a Player is an Art then Kohli is the Picasso of it#NZvIND

— Cricket🏏Fanatic😍 (@CricketSaish237) February 21, 2020
Yes!!! Shastri/Kohli management combo has gone bonkers!!! Instead of Pant/Ashwin, it should have been Saha/Jadeja… Ridiculous!! https://t.co/s7PikUbDnP

— Sharnarthee शरनाथीॅ – ललित कौल (@Sharnarthee) February 21, 2020
Just up and see Saha is left out. We have just told every young keeper in India not to bother becoming the best in the world behind the stumps and instead focus on getting a few more runs in front of them. Disappointed.

— Harsha Bhogle (@bhogleharsha) February 21, 2020
Pant playing 😭😭😭 can't believe it. I take my words back

— navi (@DrogonDracarys_) February 20, 2020
Pant in
I'm much happy 😁
Rishabh Pant is scoring a Century . #NZvIND pic.twitter.com/wK8IKY4XIF

— BeardedMSD (@Beardedmsdian) February 20, 2020
Finally Rishabh Pant Bruh 😍 getting chance in the playing XI 🥺♥️
Prove your worth in the team ✨
Score well 💯 & Good luck for the wicket keeping brother 🤙🏻
You're an champ ❤️ @RishabhPant17 #NZvIND pic.twitter.com/LPSBZlFESy

— Shivam Malik (@shivammalik_) February 20, 2020
Notice the sun is shining brighter today? Your breakfast tastier than normal? The traffic on your commute not an issue? Work just that bit easier? Everything seems right with the world?

Well, Rishabh Pant is back in the Test team – what were you expecting. #NZvIND

— Ben Jones (@benjonescricket) February 20, 2020
As I said..Kohli is so unlucky with the tosses..But Pant playing 💪😃🤞 https://t.co/s7hqquIvQJ

— Rahul🐐 (@_being_ignored) February 20, 2020
Rishabh Pant in SENA
• On an unbeaten streak of 8 innings scoring at least 25

Wriddhiman Saha in SENA
• Crossed 25 only thrice in 8 Innings
• 5 single digit scores

If Saha gets in the XI & does poor then don't blame him You know it better who should be blamed.

— K Vijayendra🍷 (@k_vijayendra8) February 20, 2020
So unfair on Saha. Pant still has aeons ahead of him.

— Harini Venkataraman (@ImVHarini) February 20, 2020
Good to see young Rishab Pant being chosen over Saha for the 1st test!!
An exciting bloke who can definitely turn the match on its head with his aggressive batting!
Hopefully he uses his chance well#NZvIND #TestSeries

— Samay Turakhia (@samay_srt) February 20, 2020
Pant is playing ahead of Saha? Based on what – his knock against a mediocre bowling attack in the practice game?

— Minal (@Granger_Gab) February 20, 2020
WeLL, Surprise Surprise saha was choice and end toss up. #Pant #NZvsIND #NZvIND

— Akshay Lutade (@Luttu_27) February 20, 2020
Pant in🤗

— Sush🏏 (@mehcricket) February 20, 2020
Interesting selection, I think the team management have decided that it is going to be Pant outside the subcontinent and Saha in the subcontinent? Pant has two hundreds in Australia and England. #NzvIND

— Whiter Than White (@ProVijay) February 20, 2020
In t20 we had ko Rahul better batsman than. Pant .
In test pant is better batsman than Saha

— common Man (@Common_man108) February 20, 2020