The challenge is the pace: Trent Boult
Updated - Aug 10, 2016 8:12 am
51 Views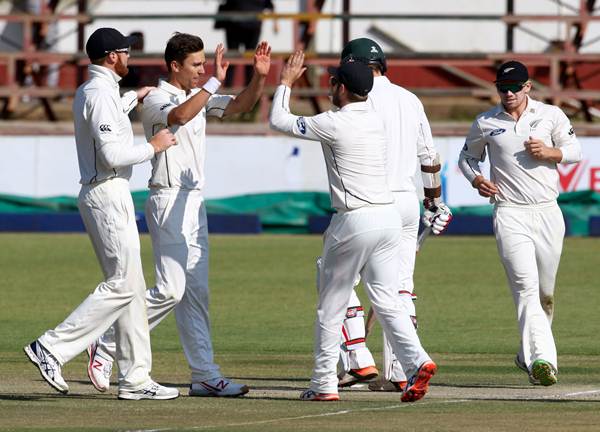 Trent Boult has insisted that he is making long strides in terms of making a comeback to the Test cricket in the ZIM v NZ series after recovering from an injury. The southpaw did not feature in the World T20 with skipper Kane Williamson opting to go in with a more balanced pace attack. However, in spite of all of this, Boult reiterated that he is getting all the better with each spell.
"I would have liked to take more wickets but that's the way it goes," Boult said following the fourth day's play. "I feel I am getting better with each spell. The challenge is the pace," he said. "It's been a wicket that we don't find where we come from. It's a testing surface but a good test at that. We know it is a very slow and unresponsive wicket. Nice to come back here and only have to grab seven."
In spite of staring at yet another defeat in the second Test at the Queens Club in Bulawayo, Zimbabwe coach Lance Klusner has stated that the team is confident of securing a draw in the match. "We are pretty confident we can bat for the day," Klusener said. "The pitch is pretty good and New Zealand has been on the field for a long time. From a team growth point of view, I am really looking forward to it."
"We wanted to place a value on our wickets. In the first Test match, there were a couple too many soft dismissals. There were a couple that was a bit soft again here but we were prepared to grind out tough sessions and bat time. We want to make sure bowlers work hard for our wickets like we had to do for theirs," Klusener added.
Klusner added that the Kiwis are not complete with their job despite the fact that Zimbabwe has lost three wickets thus far. "Their job is not finished," he said. "Craig was really organized. He had a good plan. That's where we need to get to with the other batsmen because it's one thing having a plan, but it's important to be comfortable with the plan."
"Since I have been involved, I've noticed we've always struggled to get a good platform," he said. "Tino and Chamu have settled things a little bit and take some shine off the ball. I am extremely impressed with them and hopefully, they can grow as a partnership together."