Cheteshwar Pujara is called by a different name in England
Not playing in IPL, Chesteshwar Pujara will head to England to prepare for India's tour
Updated - Apr 7, 2018 1:00 pm
2.7K Views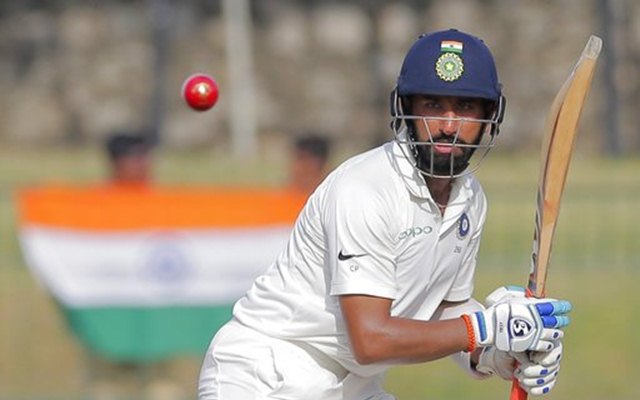 Follow us on Telegram
With a new decade of IPL set to start from tonight, the country's top cricketers will get busy with the much-anticipated edition of the league. However, India's Test specialist Cheteshwar Pujara, who won't be participating in the glitzy IPL, will head to England to start his preparations early for India's tour to Britain later this year.
The 30-year-old will be turning out for English county heavyweights Yorkshire in Division 1 for a second stint, eyeing the five-Test series against the Three Lions slated to be held in August. And prior to his travel, Pujara got talking about his time in England and revealed that he was called by a different name in the country.
In a video posted by ESPNcricinfo's official Twitter handle yesterday, Pujara, who is fondly called Chintu by his friends and family, joked about how his Yorkshire county teammates call him Steve.
Pujara was quoted saying, "Well I would prefer Cheteshwar, but it's difficult to pronounce so the guys have come up with Steve. But personally, I would prefer Cheteshwar. Jack Brooks started off with this. He couldn't pronounce my first name so he was asking me what nickname do I have. I said I don't have any. So they said we will start calling you Steve. Initially, they started calling me Puj, but they have started calling me Steve again. It's a good nickname, but I prefer Cheteshwar."
Playing in England will give an idea about the pitches and conditions
While Pujara is a trusted figure in red-ball cricket, in limited-overs it is diametrically opposite. He has played only five ODIs and no T20Is for India, and realistically, is not considered to be nearly as prolific in the shorter versions of the game.
But Pujara's confidence is absolutely not subdued by the fact and feels his county stint will be helpful as the most beneficial aspect will be playing at Test venues of India's tour, which will give an idea about pitches and conditions. For Pujara, there won't be much change technique wise from South Africa to England.
Here is the video of the day
Follow us on Google News