Cheteshwar Pujara, Jaydev Unadkat bat for the use of full DRS in next Ranji Trophy season
Unadkat was at the receiving end of two questionable DRS calls during Bengal's innings in the final.
Updated - Mar 14, 2020 1:44 pm
72 Views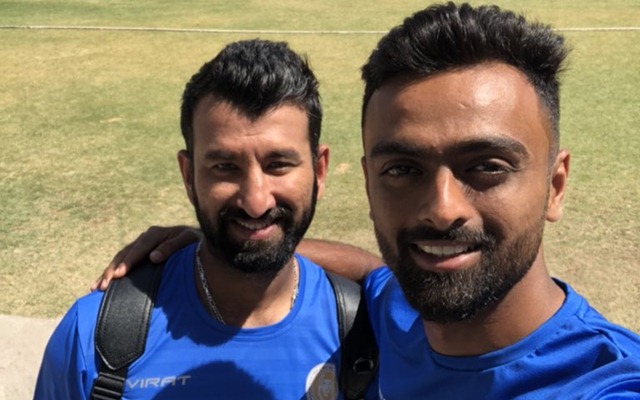 The caravan of the 2019-20 Ranji Trophy finally came to end with Saurashtra finally laying claim on the coveted silverware in their fourth attempt of reaching the finals in the past eight editions after they beat Bengal [on the basis of first-innings lead] in the summit clash at the Saurashtra Cricket Association Stadium in Rajkot.
The semi-final and final stage of this years' Ranji Trophy was played with a 'Limited Decision Review System' but the move courted a lot of controversies during the final, and players, including title-winning captain Jaydev Unadkat and senior players like Cheteshwar Pujara have called for the use of full-fledged DRS from the next season onwards.
"It is important to have it. Sometimes umpires can make an error as they are human beings and it is part of the game. BCCI using DRS in knockout games is a good step but I still feel there is scope for improvement," said Pujara as quoted by Hindustan Times.
The 'Limited DRS' did not have its usual features like ball tracking and snickometer and Pujara feels that going forward, a full-fledged version of the system should be used, especially in the semis and the finals.
"There is no ball tracking and snickometer at the moment. So, I would like to see that in the big games going forward, especially the semi-finals and finals," Pujara added.
'Limited DRS' raked up a plethora of controversies in the final
Title-winning skipper and the leading wicket-taker of the season, Jaydev Unadkat too echoed Pujara's statement and said– "I agree with him. But it is partial DRS with partial errors so if they can make it full nothing like that. Like you saw yesterday there were a couple of decisions which were not quite convincing, to be honest, but at the same time, there were instances when both teams benefitted from it"
He added– "So not at all against DRS but full DRS is something we would like to see especially in knockouts,"
Unadkat was at the receiving end of two questionable DRS calls during Bengal's innings. In the first instance, Wriddhiman Saha was given a lease of life after the third umpire S Ravi overturned the on-field call, despite it being pretty evident that the ball had hit him plumb in front. In the second instance, Saha was saved by the on-field call after the replays showed that only half of the ball was in the line of impact.
Saba Karim, BCCI's General Manager of Cricket Operations, said that he is open to the idea of full DRS in the future: "The season has just ended. We will take a call in due time. We will discuss it at the annual captains and conclave and then take a call."