Cheteshwar Pujara provides the guiding light to Karnataka cricketer D Nischal
After the match Karnataka cricketer D Nischal approached Pujara for batting tips.
Updated - Jan 29, 2019 9:05 am
13.3K Views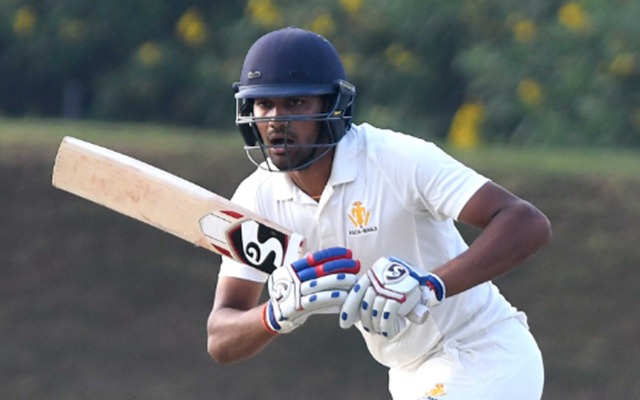 Veteran Indian cricketer Cheteshwar Pujara recently guided his side Saurashtra to a clinical win in the semifinal of the Ranji Trophy 2018-19. Pujara's unbeaten 131 ensured that his side beat Karnataka in the penultimate game of the season. While his performance was there to be adored by all, he ended up getting some infamy during the game as well.
During the game, Cheteshwar Pujara was caught behind in either of the innings, but he refused to walk off. This was followed by the boos, and the chants of 'cheater, cheater' by the Bengaluru crowd. Despite all the boos and chants, there was no camaraderie lost from Pujara's end. After the match, as per the reports in Newsable, Karnataka cricketer D Nischal approached Pujara for batting tips. The veteran was happy enough to share his wisdom.
"I had decided to approach him after the game. Once the game finished I went to him. It was a fantastic feeling, as we all know whenever a fan meets his idol. It was a superb feeling watching him bat and I want to learn a lot from him," the 24-year-old Nischal told Newsable.
'Was a fantastic discussion'
Commenting further on the discussion that he had with the Indian batting veteran, Dega Nischal revealed that he had a lot to talk about during the conversation. He noted that his batting style is similar to that of Pujara, and he has modelled his batting style around him. He went on to quote that Pujara is his favourite cricketer. Revealing further, he conceded that they predominantly spoke on defence.
Nischal correctly pointed out that the key to success in the longest format of the game is to have a sound technique and defence. He added that Pujara told him that everything falls at the right place after years of practice and after having faced a lot of deliveries.
"It was a fantastic discussion. I am a big fan of Pujara. I have modelled my batting style around him. He is my favourite cricketer. Obviously when you are playing against him, it is a big honour and I wanted to speak to him regarding my game. It was a fantastic discussion about batting and he taught me a lot of things," conceded the Karnataka lad.
"The most important thing and the only thing which I discussed was the batting defence. We have similar batting styles. Defence is the most important weapon. Pujara is the best defence batsman in the world. He plays very close to the body, the bat won't go ahead. So, I asked him about that. He told that it takes years of practice and playing a lot of balls. And, also he told me that it comes with playing with soft hands," he added further.