Cheteshwar Pujara's wicket would've allowed us to run through Saurashtra: Vinay Kumar
"The umpires are human too."
Updated - Jan 31, 2019 1:37 pm
288 Views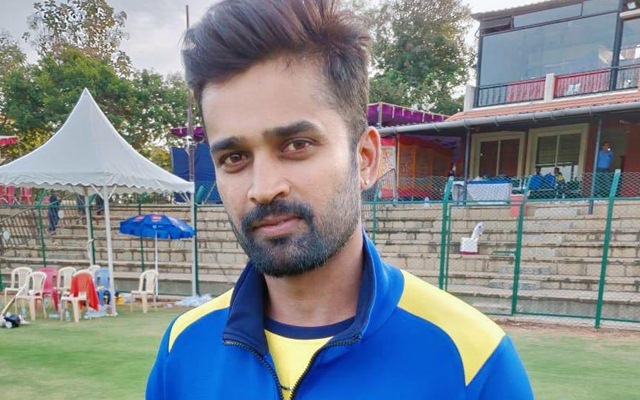 Karnataka lost their semi-final match against Saurashtra by five wickets at the M Chinnaswamy Stadium and subsequently bowed out of the Ranji Trophy 2018-19. The encounter went into the last day, but by then the visitors had already been able to get a stranglehold on their opponents. The contest was marred by a couple of controversies, both involving Indian batsman Cheteshwar Pujara.
The veteran notched 45 and 131 runs in both the innings to guide his team through. However, he knicked the leather to the keeper in both innings. In the second innings, he edged the ball to the keeper off Vinay Kumar and even the Snickometer showed a spike. Nevertheless, the umpire remained unmoved and even Pujara didn't move an inch from his place. Pujara was thereafter severely criticised.
In the meantime, Vinay doesn't want to blame the umpire and reckons they are 'humans'. "The umpires are human too. If they make mistakes, it's part and parcel of the game. I can't blame them. We had lost to Saurashtra in the quarterfinals in 2013 and 2008. I wanted to change that record; I wanted to take responsibility and take us to the final," Kumar was quoted as saying in Sportstar Live.
You have every right to stay when you nick the ball
Moreover, he mentioned that Karnataka would've run through their batting lineup had he got rid of Pujara. "If I'd got Pujara's wicket, we'd have run through their side. When we took the second new ball, I bowled those three balls to Pujara: the first went between gully and slip, the second could have easily hit middle-stump, and the third was almost a nick. Luck was on their side," he added.
Furthermore, he also backed Pujara and remarked that the batter was well within his rights to stay put in his position after getting the thick outside edge. "Sometimes even when you've not nicked the ball, the umpire will give you out. Then, you can't say you're not out. So you have every right to stay when you nick the ball. It depends on the individual," the experienced campaigner added.