Chokers 'Kohli-fied' as India race to the finale
Updated - Apr 4, 2014 6:35 pm
78 Views
"172! Are you kidding me? Oh my lord!",this line would probably have been on the lips of any Indian who missed the first innings of the 2nd semi-final between India and South Africa. A score which was atleast 30 runs more than,even the South Africans wouldn't have anticipated before the match started.
As South Africa won the toss and decided to bat first, a sense of happiness must have creeped into the chase-loving Indians. Mahendra Singh Dhoni went in,with the same XI that demolished the Aussies in their last group match leaving aside the out-of-form Dhawan and the over-burdened Mohd Shami.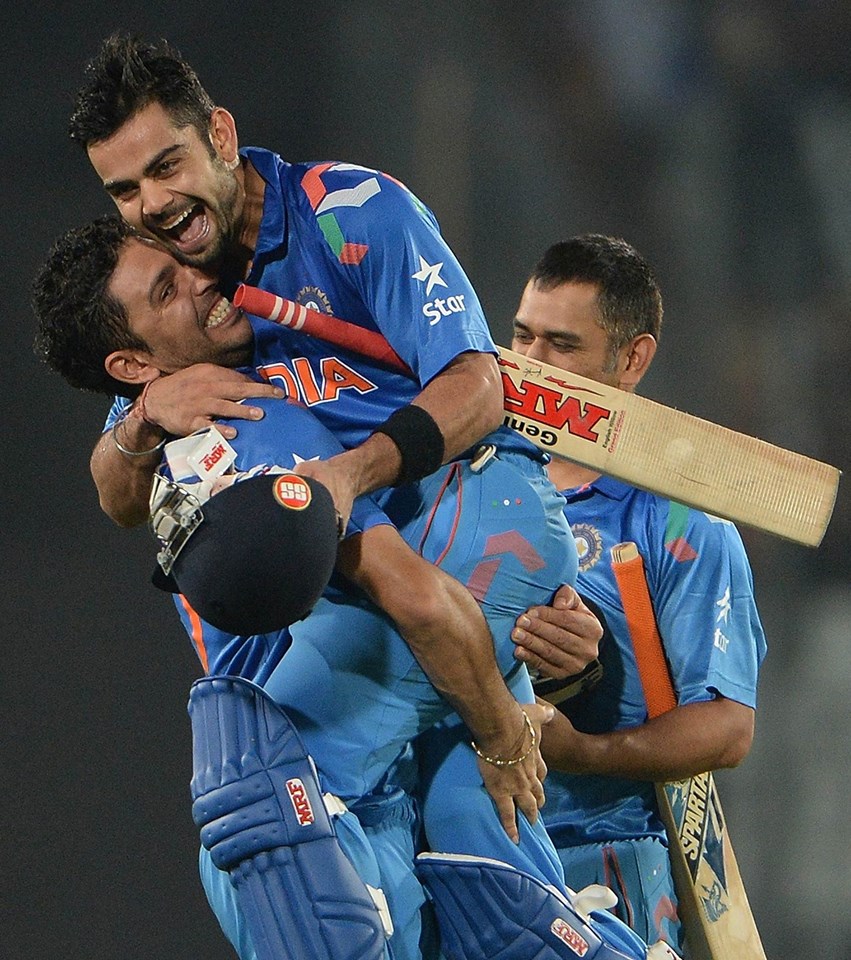 Follow us on Telegram
South Africa got off to a sedate,yet good start on a flat-looking track losing de Cock(6) to Bhuvneswar Kumar in the first over with 9 on the scorecard. Hashim Amla,the mr consistent and the Protea captain started to accelerate before Dhoni brought his trump card in. A carrom ball doosra baffled Amla(22) as South Africa lost their 2nd wicket at 44 in just about 5 overs. South Africa's go-to man this tournament, Jean Paul Duminy though came to the crease. du Plessis(59) continued to play his natural aggressive cricket while Duminy looked like playing a test innings till Dhoni brought the leggie Mishra into the attack when all hell broke loose! From 66 in the first 10 overs, South Africa reached a score of 172 in 20 overs, Duminy remaining not out on 45 and Miller 'the killer' playing a cameo of 23 off just 12. India's famed bowling had been tamed,India seemed to be on the backfoot.
One would imagine the reason,India's openers attacked from the word 'go' as Rohit Sharma(23) and Rahane went into a carnage mood. Rohit,especially looked sublime with cover drives,square cut and huge six before falling to Hendricks trying to hit big at long off. As Rahane was dismissed for a silent 30 with India at 77 in 9.3 overs,Yuvraj joined Kohli at the crease. Kohli,India's chase-master opened up slowly as South Africans suddenly looked hapless. Yuvraj Singh(18 off 17) too looked good till he lasted as India lost him at 133 with 27 balls to go. Suresh Raina(21) blasted a cameo with Kohli too looking at his aggressive best as India needed 6 off the last 9 balls. The equation was as simple as a walk in the park but Raina got out trying to hit out and hit big. Dhoni came to the crease,faced a ball but remained unbeaten on 0 as the chokers were left 'Kohli-fied' with 5 balls left to be bowled. The man-of-the-match went to Kohli for his match-changing innings of 72 off 44 balls on a pitch that turned and bounced.
With this 6 wicket win,India booked a ticket to the finale of World T20 finale and the opponents Sri Lanka would surely need to strategize to beat a 'Kohli-tastic' India!
Follow us on Google News