CoA not happy with the decision taken for new applicants
BCCI has invited new applicants for the post of Head Coach and CoA is not happy about it.
Updated - Jun 27, 2017 4:35 pm
4.6K Views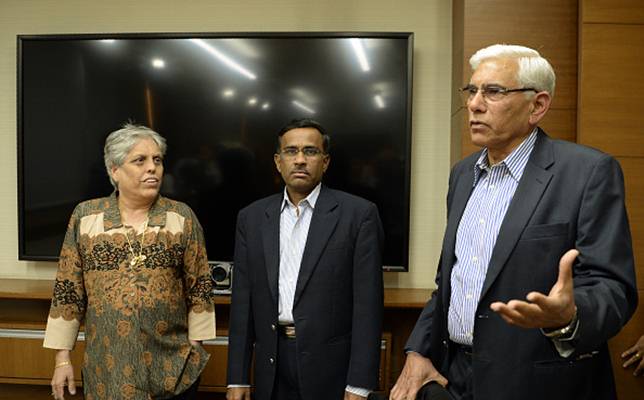 Follow us on Google News
The hunt for the new coach is on and it has been almost two weeks since Anil Kumble has resigned from his post. Board of Control for Cricket in India (BCCI) is under pressure and it can be seen from their current actions. The CAC has not exactly been working to find the new boss but it seems likely that they will have to do sooner rather than later.
The coaches who applied did not have their hopes high as they were sure Kumble would be retained as the head coach. However, things took a turn very soon. BCCI also sent out a word for new applications and that raised some questions. The decision might not have been taken with the consent of the required people.
CoA not happy
BCCI has invited new applicants for the post of Head Coach and CoA is not happy about it. They were apparently not informed about the decision and that has not worked well for the BCCI. The CEO of the board Rahul Johri was questioned about the same and he told Indian Express, "We had informed all concerned."
One of the sources said that many were not happy with Johri's explanation. "Not everybody was convinced by Johri's explanation and Phase Two of the coach selection process was seen as unnecessary. He was even asked if new applications were invited at Captain Virat Kohli's behest," the source said.
Another source said that CoA was not informed about the rift between Kohli and Kumble and there is no explanation for it. "The CoA wants to know that if so much was happening behind the scenes in the dressing room, did the manager flag the rift?"
BCCI members not happy with the process
The interviews were supposed to go down in England during the Champions Trophy but that has not happened and now many questions have been raised. One of the officials said that one application was rejected because it came after the deadline and now they want more applications.
"On one hand, the BCCI says they are just following the process of calling an application for the head coach's job. On the other hand, they haven't interviewed a single candidate who applied for the job so far. (Former Australia fast bowler) Craig McDermott's application was rejected because his application was received after the deadline. After all this, the CAC endorsed Kumble without meeting any candidate. So why is there this farce of calling for applications again?" the official said.
The CAC is going to start their work to find the new coach from July 10.
Follow us on Telegram