Colin Munro's inconsistency could close doors for him in ODIs
Only once in 2016, his batting average touched 34. But that's it.
Get every cricket updates! Follow us on
With the rise of Henry Nicholls as a more reliable option for the Black Caps, the door for Colin Munro in One-Day internationals might get permanently closed. To think of Munro, what first comes to mind is a power-hitter. So he is, especially in the T20 format. In T20 Internationals, he has remarkable numbers. In 48 T20I innings that he has played so far, Munro has amassed 1339 runs at 32.65 and maintains a high strike rate of 161.13.
His conversion rate in T20Is is rare and extremely high. Only Rohit Sharma (4) has more centuries than Colin Munro (3) in T20Is. He can literally fit into any T20I team as a natural choice. But in ODIs, the story is drastically different. Over the years we have seen Munro fare extremely poor in 50-overs cricket.
It is rather shocking that he makes it to the team so often, maybe because he is seen as a source of building momentum during the powerplay. But at what cost? Year after year his batting average has remained in the 20s or even below. Only once in 2016, his batting average touched 34. But that's it.
In fact, it is pathetic when compared to his T20I numbers. It is really surprising that Munro hasn't scored a single hundred in the 50-overs format in six years since his debut. It is fair to say that Munro has never really got the grasp of it. With the competition bar set too high, a place in the final XI is only attainable if the performances are worthy enough.
The Nicholls' threat for Colin
During the course, New Zealand discovered more options for their ODI scene. With the retirement of Luke Ronchi, Tom Latham became a permanent choice. Not just as a wicketkeeper but a handy top order batsman. But that's in ODIs. In the Test format, Latham cemented his place eclipsing BJ Watling's position.
With the rise of Henry Nicholls in the 50-overs format, left-hander Colin Munro's role in the ODI team of the Kiwis might just become obsolete. Nicholls has been proving himself in Test Cricket since quite a while. And since his brilliant performance against Sri Lanka, he has established himself as a Test Cricket expert.
In ODIs too, he has been a lot more reliable than Munro. He has a better overall average and also an evident exponential growth in terms of performance. Moving on to the big picture, for the upcoming World Cup, the management has already made potential plans for Nicholls.
"It's a possibility," New Zealand coach Gary Stead said about the plan to keep Nicholls as a reserve wicket-keeper during the World Cup. "Henry has had a little bit of keeping in the past and again that's a selection question when we sit down to finalize the squad of 15 and work out the balance we need. We'll work out whether we go that way or have a genuine person who keeps all the time as balance."
Moreover, if the Blackcaps promote Nicholls to the upper order, like in the fourth ODI against India, they would want a better all-rounder in the lower middle-order. That simply puts Munro out of the equation. New Zealand could actually go for someone like Jimmy Neesham for that role.
Here's a comparative analysis of Munro and Nicholls' ODI numbers: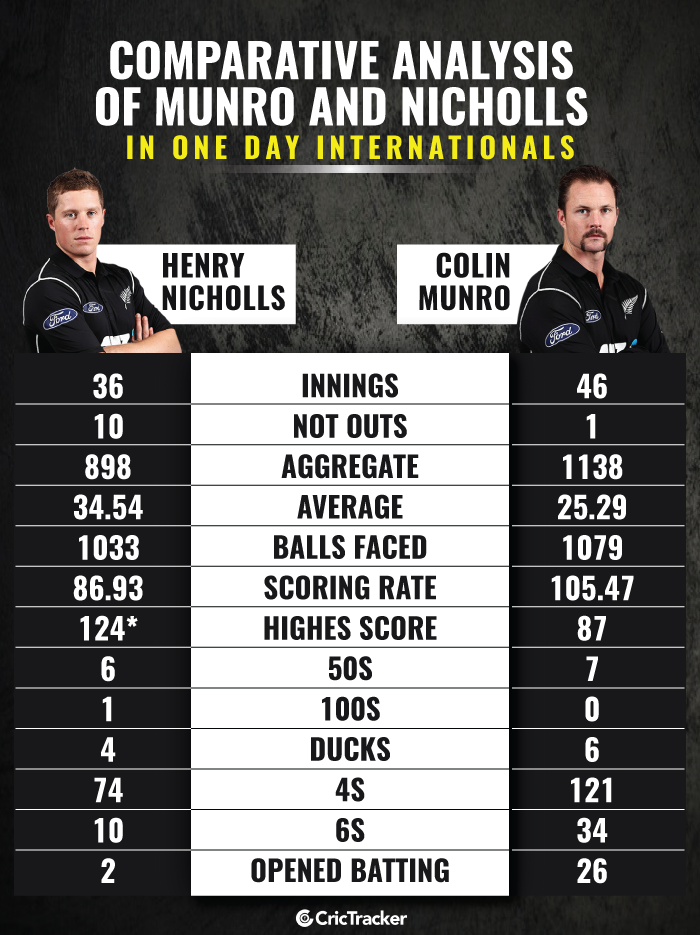 Nicholls- A tried and tested character
Now diving deeper into Nicholls' role as opener, Stead says it wasn't an impulsive decision. Rather it was well thought over, for about several months before Henry was asked to open in the ODI series against India. After Mike Hesson stepped down as New Zealand coach, Gary Stead took over. Hesson's role in New Zealand's journey was instrumental and hence he's hard to replace. But Stead has his experience with the women's team as he guided them to the 2009 World Cup final.
Moreover, Stead has been the coach of Canterbury and is aware of Henry Nicholls' expertise in the top order since those days. During the 2014-15 season of the Ford Trophy, a 23-year-old Henry Nicholls had amassed 454 runs at an average of 75.67 in six games. That had left a mark on coach Stead's mind and led to his promotion as opener, against India. Stead has indicated that this role might just extend to the World Cup.
As far as Munro is concerned, just like 2018, he has had a horrendous start to the current year and on the contrary, Nicholls has much better numbers and has started 2019 on a steady note. Going forward the journey is expected to get tough for Munro if he doesn't pull his socks up and gets runs under his belt.
Here's how Munro and Nicholls have done in 2019: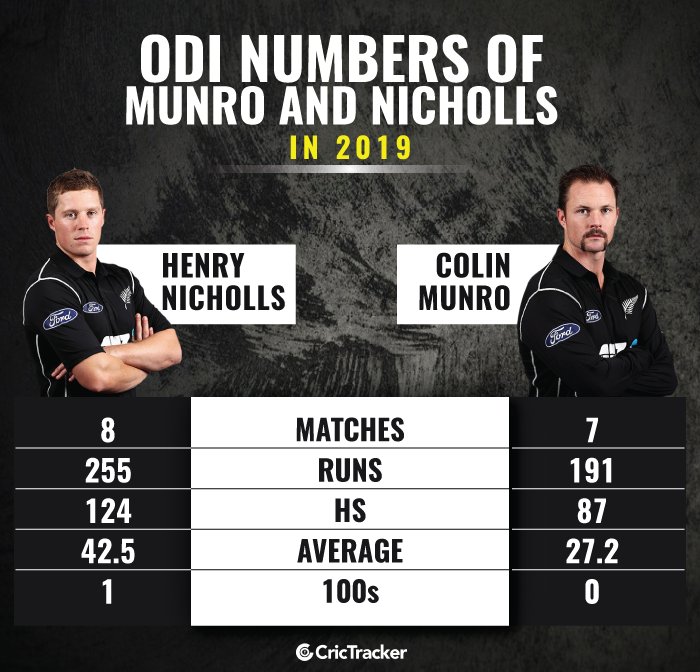 *All the statistics provided are before the start of the ODI series between Bangladesh and New Zealand.