Commentator Simon Hughes introduces Sean Abbott referring to Phillip Hughes' demise; gets lambasted
The incident that took place in 2014 would be sending shivers down the spine of the Aussie cricket fraternity even after five years.
Updated - Nov 8, 2019 3:04 pm
13.3K Views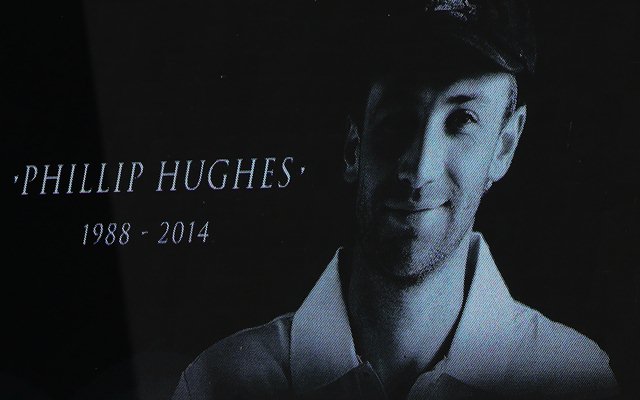 Follow us on Telegram
Phillip Hughes was one of the brightest talents Australia has ever produced. The southpaw played quite a few matches, donning the national colours. However, life turned out to be a cruel beast for the left-handed batsman. Back in November 27, 2014, Hughes passed away at the tender age of 26. The unfortunate incident took place prior to India's tour of Australia during a first-class match.
Sean Abbott bowled a short ball that hit Hughes on the head after which he was taken to the hospital. Later, the latter was declared dead and it turned out to be one of the darkest phases in Australian cricket. Every time, an Aussie batter cops a blow on the helmet, the mind travels down the memory lane to the horrendous incident in Sydney. Abbott was absolutely devastated after the occurring.
Simon Hughes makes the shocking comment
In the meantime, Abbott took the field in Australia's third T20I of the ongoing three-match series against Pakistan at the Perth Stadium. Before the start of the game, the commentators analysed the playing elevens. There, a commentator by the name of Simon Hughes referred to something that raised a few eyebrows. Abbott replaced leg-spinner Adam Zampa, who went wicket-less in the first two games.
Hughes introduced the 27-year-old Abbott as someone, who is known for the infamous delivery to Hughes. "A rare opportunity for Sean abbot who hasn't played too much who is probably most famous for having the misfortune of bowling that ball that killed Phil Hughes," Hughes was quoted as saying while reading out Australia's playing eleven for the final T20I.
Here is the video
Omg as if he's just said that??? pic.twitter.com/IMVmqq9xcw

— The Big Show (@ravi_layer) November 8, 2019
Prior to this game, Abbott took part in a solitary ODI and three T20Is and managed only a couple of wickets in those games. However, he has been an integral part of the New South Wales and the Sydney Sixers in the Big Bash League (BBL). The Windsor-born is more than a handy prospect with bat and ball.
After Simon Hughes' comments, the netizens weren't happy with him by any stretch of the imagination. Subsequently, he became a recipient of trolls and brickbats. Twitterati couldn't believe that the commentator put forth the sensitive issue on live TV.
Here are some of the trolls
Shouldn't have said that 🤦🤦🤦🤦

— Smith Richie (@smithrichie49) November 8, 2019
Regretted it as soon as the words left his mouth.

— Jacob Landsmeer (@jlandsme_93) November 8, 2019
Disgraceful

— Around and around (@AndyB_Aussiered) November 8, 2019
@gotheroos29 so unnecessary

— Charlie Roberts (@chazaroberts) November 8, 2019
— DIMIS (@DIMIS_ETC) November 8, 2019
Who is the commentator? Surely that's their last ever gig!

— Josh Kleine (@gobbles21) November 8, 2019
Really didn't need to mention that

— Ian King (@naggerpagger) November 8, 2019
Imagine the other comms in the box as he's said that 🤣🤣🤣🤣

— munawarsghost (@munawarsghost) November 8, 2019
Follow us on Google News