Confident of making a comeback to the Indian team: Irfan Pathan
Updated - Sep 13, 2014 9:32 am
87 Views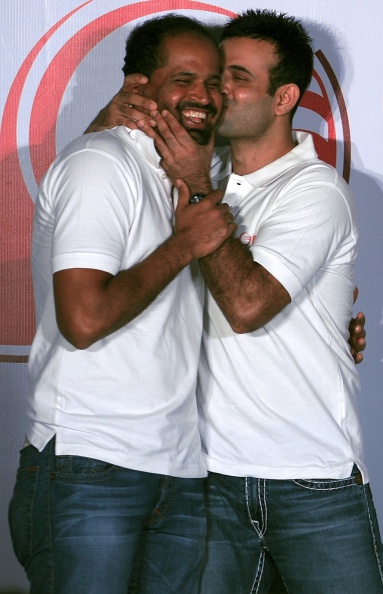 Follow us on Telegram
Irfan Pathan and Brother Yusuf Pathan launched their Cricket Academy of Pathan's. It was always their vision to come up with something like this and give back something in return to the game after it has given them so much. That is how the CAP happened, at the launch event, Irfan and Yusuf not only talked about the academy but also their own journey and current plans of making a comeback into the national team. Both Irfan and Yusuf looked confident of making themselves a place into the Indian team.
They too had a tough start and a struggle in the initial phase, when they would travel along on a bicycle for miles to go and return from practice. The brothers were brought up well by their parents and they always backed the two to follow their dream. They said, "Our parents often say we are lucky to have kids like you, but it is in fact our fortune to have such wonderful parents."
"When you have a struggling journey towards the top you know its importance and also value it as much more. But, at the same time we want to ensure that the younger generations who aspire to play cricket and have that talent in them need not struggle as much. Good facilities and infrastructure is provided to them along with right nutrition and mental strength to make them better professional cricketers." Irfan told the press.
Irfan recalled at the event that, "When we used to finish our practice our coach gave us five rupees to have a fruit salad. All nutrition meant to us was the 5 rupees fruit salad that we had after practice. We liked it and thought this was the nutrition we needed. It was only when we got into the Ranji side and later on in the Indian team that we got to know what it actually was."
"At CAP coaches will not only focus on the technical aspect of cricket but also there will be psychological and nutrition expert to develop the overall personality of the students." Said Irfan
Ask them about their plans for making it back to the Indian team and the explosive Yusuf said, "I will not tell you the plan, but you will see it once I am out there and playing in the CLT20 representing the KKR." While Irfan had a rather inspiring answer, "At the moment everyone is asking me what I am doing and how will I make this happen. I want to ensure within a couple of months they ask me how did you make this possible."
"I will play all the Ranji Matches and by the end of two months you will see me heading back to the team." Said a confident looking Irfan Pathan.
Ankit Mishra was there at the Press Conference covering the event for CricketTracker and got a chance to catch-up with them and also asked the Pathan brothers a few questions on the CAP.
Irfan you are a fast-bowler yourself and have been prone to injuries, will the CAP try to help current Indian bowlers who suffer the same problems?
Yes, Indeed like I said the CAP will have its doors open to everyone who is willing to come to us. We have just set a lower limit of 8 years and then there is no upper limit anyone who needs help can come into the CAP."
You said the coaches will be trained by Greg and the academy will start by the end of October, so have you guys identified the coaches by now?
Yes we have, but I cannot reveal the names at the moment, all the coaches are Indian and a few former players too. There will be an event when we launch the Baroda academy only then you will be able to get the exact names.
Irfan and Yusuf you are an all-rounder and a specialist batsman. Will there be focus on producing a particular type of cricketers. Like all-rounder for that matter as India have not seen a fast bowling all-rounder after you?
The coaches will try and identify the players, screen them into the category they are good at. Later their coaching will be focused more on that aspect and will try to enhance that particular skill and help them improve other parts of their game as well.
The Pathan's also plan to start with the CAP Foundation which will support the expenses of enthusiasts form humble backgrounds, sponsor their stay at the academy. For now the academy will operate like others charging a fees around 15-17 thousand for a 8-9 weeks module.
Follow us on Google News