Conflict between Kohli and Kumble wasn't going to be surprising: Ray Jennings
Kohli isn't pleased with Kumble's hard task master methods which have intimidated players in the Indian Team.
Updated - May 31, 2017 3:51 pm
2K Views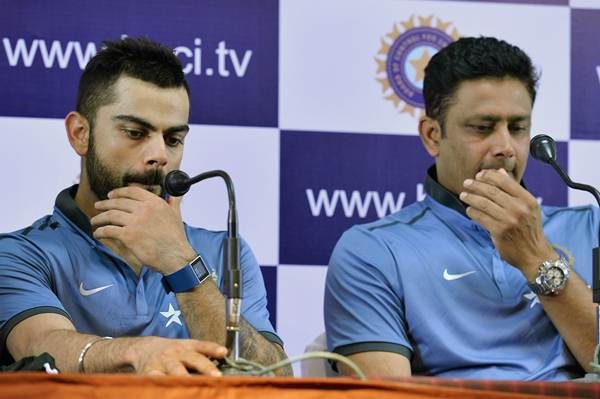 Ray Jennings, who was RCB's first coach in 2008 and also coached Virat Kohli, isn't surprised by the ongoing rift between Anil Kumble and Virat Kohli. If the reports are to be believed, Kohli isn't pleased with Kumble's modus operandi. With the contract of the former India captain going to expire soon, it is unlikely that he will be retained by the BCCI.
Kohli reportedly shared a much better relationship with Ravi Shastri, the former director of Team India. The 28-year old was disappointed when Shastri's contract was not renewed last year despite giving decent results during his tenure.
Rift reportedly began at Dharamsala
A major conflict between Kohli and Kumble emerged in the Dharamsala Test when Kumble insisted on playing Kuldeep Yadav, according to reports. Kohli wasn't informed by Kumble about Yadav's inclusion which did not go down with the Indian captain. Kumble's headmaster-like presence is reportedly intimidating players in the team and they have in unison filed a complaint against Kumble's methods to the Committee of Administrators (CoA).
"Team India cricketers are apparently not very happy with Anil Kumble and they have complained to the Committee of Administrators (CoA) about the coach's overbearing attitude," an India Today report earlier said.
Quoting sources, the channel reported, "the players are unhappy with the fact that there was no freedom in the dressing room."
Relationship between coach-captain crucial: Jennings
Ray Jennings was of the opinion that there must be a smooth relationship between a coach and the captain. He was the coach of RCB when Kumble was the skipper and Kohli played under him and knows both persons from close quarters.
"I know both of them. Pretty headstrong gentlemen with conviction of their views. A conflict, I guess, wasn't going to be surprising" said Jennings.
Jennings also pointed out that a captain has a right to work with a coach he is comfortable with. Both must share an open relationship and have trust in each other.
"A hard coach can keep pushing and prodding the players of the team but the relationship between the captain and coach has to be good. The trust has to be there. The coach can have issues with the rest of the players but needs to have a smooth relationship with the captain for things to progress. And, as a captain, he has the right to work with people he is comfortable with and I have no complaints," he was further quoted as saying.
BCCI had appointed a Committee comprising of Sachin Tendulkar, Sourav Ganguly and VVS Laxman to appoint the head coach of the team last year. These three will again go through the applications of the prospective candidates before making the final decision.
Kumble, whose contract expires at the end of the ICC Champions Trophy, is unlikely to re-apply for the job again. If results are anything to go by, Kumble had an outstanding year as a coach in which they lost just one series – 2-match T20 series against West Indies in the USA last year.