Congress spokesperson Udit Raj calls Virat Kohli as Anushka Sharma's dog in his tweet over Diwali crackers
Kohli is currently in Australia training and quarantining together in Sydney.
Updated - Nov 15, 2020 4:16 pm
8.2K Views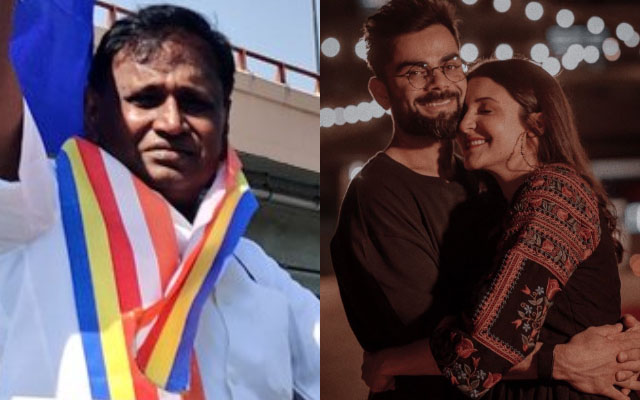 Follow us on Google News
Team India skipper Virat Kohli is currently in Australia training and quarantining together ahead of the three-match ODI series that is set to commence on November 27. The two teams are also scheduled to face each other in three T20 Internationals and four Tests with the tour stretching till the third week of January. With the packed schedule, the Indian players have been forced to celebrate Diwali while in quarantine in Sydney.
However, they made sure that they wished their fans on social media. Even Virat Kohli did the same posting a video wishing his fans and followers a very Happy Diwali. He also urged them to not burst crackers which increases the pollution while also stating that this festival is an occasion to spend time with family and light a Diya.
"Please remember do not burst crackers, protect the environment and have fun at home with your loved ones, a simple diya and sweets on this auspicious occasion," he said in the video.
Virat Kohli trending on social media
Ever since his video has dropped on social media, Virat Kohli has been trending with fans slamming him for his 'don't burst firecrackers' message. He is trending even after 24 hours of his message. Amidst all the brouhaha over the matter, the Congress spokesperson Udit Raj came out in the Indian captain's support. He stated that the 32-yar-old cricketer is speaking in favour of not bursting crackers as he is worried about the environment.
However, in his Hindi tweet, Udit Raj termed Virat Kohli as 'Anushka Sharma's dog' which has created a controversy now. While his intention was to support the RCB skipper, calling Kohli as dog hasn't gone down well with his fans. Rather in his multiple tweets, Udit called Kohli as 'Dog' while referring him to be loyal.
Here's the tweet:
अनुष्का को अपने कुत्ते विराट कोहली को सम्भालने की ज़रूरत नही है। कुत्ता से ज़्यादा वफ़ादार कोई नही। कोहली ने तुम लुच्चे ,लफ़ंगों और मूर्खों को सीख दी थी कि प्रदूषण से मानवता ख़तरे में हैं।
तुम लोगों का डीएनए चेक कराना पड़ेगा कि तुम यहाँ के मूल निवासी हो कि नहीं?

— Dr. Udit Raj (@Dr_Uditraj) November 15, 2020
विराट कोहली के सुझाव का स्वागत लेकिन कुछ दुष्टों ने ट्वीटर पर भद्दी गालियाँ देना शुरू कर दी।हैरान हूँ कि सरकार ये सब देख रही जैसे कि मौन सहमति हो। इनके ख़िलाफ़ कार्यवाही अभी तक नही हुई।ये इंसान नही हो सकते।कुत्ते को भी बुरा कह रहे हैं ।कुत्ता से ज़्यादा वफ़ादार कोई नही।

— Dr. Udit Raj (@Dr_Uditraj) November 15, 2020
Coming back to Virat Kohli, he rarely comments on such things and believes in staying with his family and playing his cricket with utmost passion. Currently, he is training hard to be able to play match-winning knocks for his country in Australia.
Follow us on Telegram