Contributing for COVID-19 affected much bigger than India T20 World Cup win: Joginder Sharma
"Feed the hungry, help the poor."
Updated - Mar 31, 2020 12:48 pm
236 Views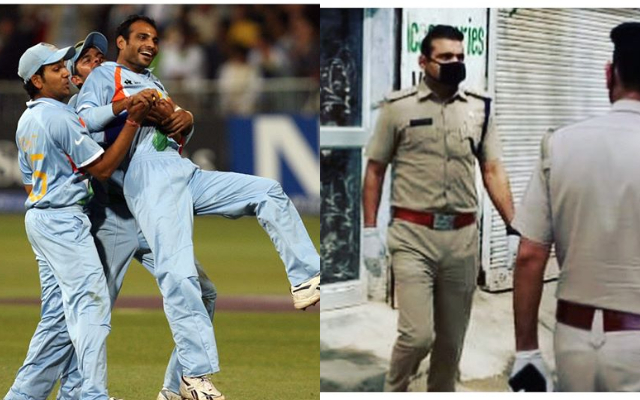 Follow us on Google News
Joginder Sharma, the former Indian cricketer, has been trying hard to maintain sanity in his state Haryana amidst the coronavirus pandemic. The 36-year-old, who's a Deputy Superintendent of Police (DSP), has been patrolling the street to make sure that people are adhering to the directives of staying indoors. India is currently under a 21-day lockdown, which is scheduled to end on April 14.
Sharma's name is mostly known because of the final over the 2007 T20 World Cup against Pakistan where he got rid of Misbah-ul-Haq. However, the veteran reckons that contributions towards the affected in the COVID-19 outbreak is more important that even winning the inaugural T20 world tournament in South Africa. Sharma wishes to draw satisfaction in every contribution he makes.
"Obviously, this contribution is much bigger because people are losing their lives. It was also a big thing, winning the World Cup for India, but here we have to save the nation. And even if I am playing a small part in this, then it is huge," Sharma was quoted as saying in Wisden.
We have to help each other: Joginder Sharma
Sharma believes that like cricket even in the current scenario, it's only a team effort that can work wonders. The veteran urged the netizens to avoid social gatherings, instead asking them to contribute for the poor and needy.
"It was the nature of my sport, which is a team game and players work together to make things happen. So now we have to help each other, and the biggest help will be to stay inside our homes. This is the only way to fight coronavirus. Feed the hungry, help the poor. Say no to social gatherings, go out just for getting essentials, but maintain social distance," he added.
Sharma wishes to utilise his popularity in cricket to communicate with the people in the situation of crisis. "People know me and recognise me, and that helps putting my point across. But now I am a police officer and this is my duty," he added.
In India, the coronavirus cases have increased to 1,251 with the death tolls up to 32. Over 100 people have recovered from the deadly disease. Worldwide, the cases have gone above 7,84,000 with 37,780 losing their lives.
Follow us on Telegram