Cook, Ballance set platform for a Big Total
Updated - Jul 27, 2014 6:19 pm
7 Views
You lost the Ashes 5-0, lost the series to Sri Lanka at home, lost the test match at Lord's to India. To add to it you yourself as Captain are not getting any runs and all of the critics are behind you. This has been the story of Alastair Cook off late. So, what to do to come out of it. Let's go out there, score a ton and silence everyone making the noise. English captain did almost the same on the first Day of third test at Southampton. Cook scored a fantastic 95 off 231 balls. He shared a 158 run stand with Gary Balance for the 2nd wicket partnership who was the top scorer of the day with an unbeaten 104.
Follow us on Telegram
Earlier in the day, Cook won the toss and elected to bat first. England made three changes with Woakes, Butler and Jordan coming in while Indian had to get in Pankaj Singh in place of injured Ishant Sharma. Pitch had the grassy look but it did not offer much assistance to India's new ball pair of Bhuvneshwar and Shami. Dhoni brought in Pankaj Singh early and he did not look like a new comer. With tons of experience of First class he was right on the money straight away. In his third over he made Cook to edge one straight to Third slip where Jadeja dropped a pretty straight forward chance. Cook was on 15 at that time. The first wicket added 55 runs before Robson edged one off Shami to Jadeja.
Once Dhoni was done with his fast bowlers burst, he brought in Jadeja with a surprising leg side field. Jadeja bowled middle and leg line with a leg slip and short leg and lots more of protection on the leg side. The move looked a run controlling measure rather than a wicket taking one. Dhoni continued with move the whole day, while English batsmen had no real challenge in facing the leg stump of Jadeja.
Cook and Ballance were quite disciplined in leaving the good balls and made full use of poor deliveries and ensured a wicketless second session for India. Cook was not the best of old but had his feet moving much better specially against Bhuvneshwar Kumar. When it looked like Cook will get to his hundred after a long gap, he tickled one going down the leg side of Jadeja to Dhoni. On the other hand Gary Ballance continued his dream start to test Cricket and scored his 3rd hundred in his 6th game.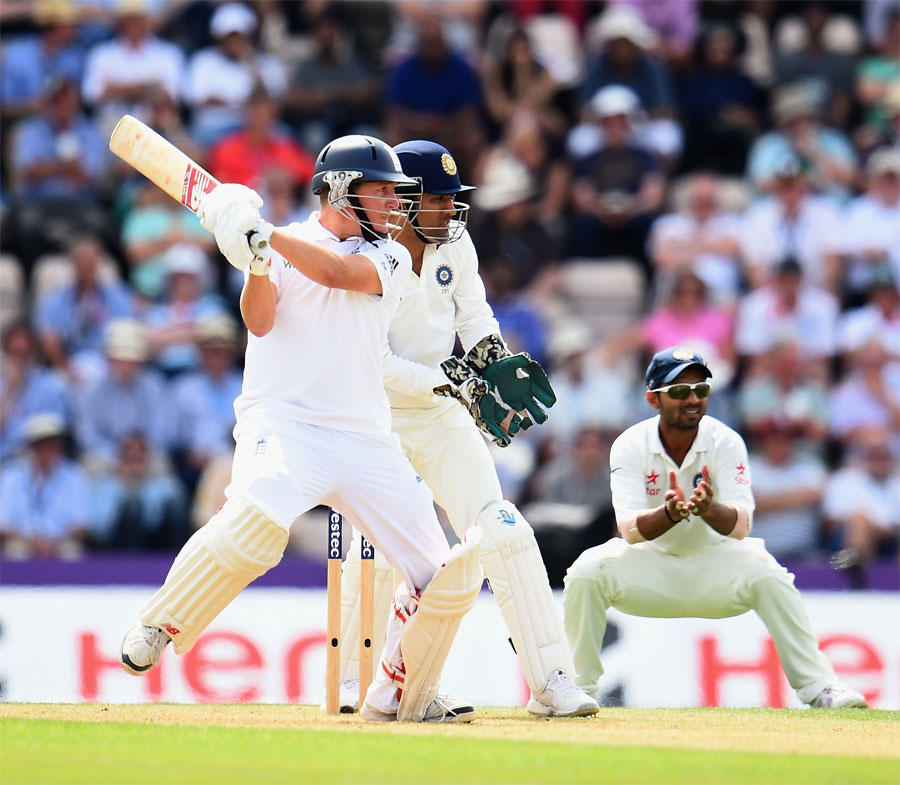 Amongst Indian seamers debutant Pankaj Singh looked the best of lot. While Pankaj was unlucky in morning when Jadeja dropped Cook off his bowling, he produced a beauty with second new ball to trap Ian Bell but he was undone by the decision of umpire. Bhuvaneshwar was consistent with his line and length but the pitch did not offer any assistance to him. Shami produced a few good deliveries but was often found inconsistent with his line. Indian think tank has a bit of thinking to do on how to get wickets, especially on how to use Jadeja whether to continue with a leg stump line or make the batsmen drive on off side.
Overall it was England's day with its top order setting a platform for a big score by ending the day with 247 or 2.
Follow us on Google News