Cricket administrators and politics to be blamed for this situation, says former cricketer Sidath Wettimuny
Sri Lanka has been whitewashed in both Test and ODI series by India.
Updated - Sep 6, 2017 6:49 pm
46 Views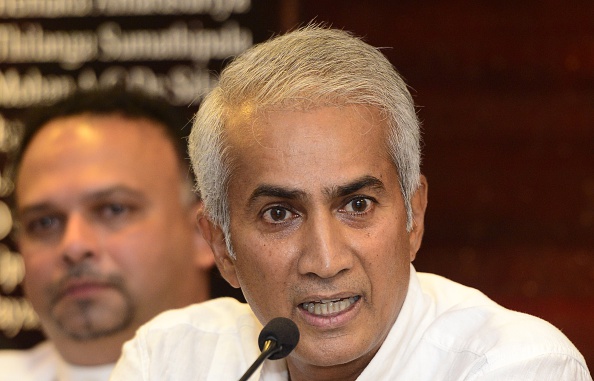 Former Sri Lanka cricketer Sidath Wettimuny has blamed Sri Lanka cricket's top brass and its politics for the situation their cricket is in. Sri Lanka cricket is in a state of flux for a long time now. The controversies and injuries to the players have not done any good as the team is not doing well in recent times.
Sri Lanka, after losing the ODI series to Zimbabwe, has lost Test and ODI series against India. The way they have lost has been the concern for many now. The team didn't even put up a fight in any of the games and were beaten comprehensively by India. The team will play a one-off T20I against the visitors to conclude an embarrassing home season.
We must sort out the first class structure first
In an interview to Hindustan Times, Sidath Wettimuny spoke about the current situation of Sri Lanka cricket and the need to overcome the situation. He was of the opinion that the team can do well with the current crop of the players as well but there has to be some discipline. He also said that the first-class structure has to be improved to bring up more talented players, something which legend Sangakkara had pointed out too.
"I don't know whether there can be a quick fix. I am sure we can bounce back, We've talent, we just need to bring in a lot more discipline with positive thinking. I'm sure we can do a lot better even with the current crop of players given the right environment and right conditions, except that there is so much instability, interference. We must sort out our first-class structure. Some of us have been shouting about it for a long time. We have been sitting on our laurels thinking we won a World Cup in 1996. We think club cricket can do what it takes," he said.
Wettimuny also pointed out that other countries have improved immensely in the period when Sri Lanka cricket has done nothing. He urged for the club cricket to improve soon. "But if you look at cricket all over the world, they have progressed while we have done absolutely nothing. We have in fact diluted our club cricket, expanding it from 14 clubs to 24 clubs. Our club cricket is played over three days. Some of these matches don't even last that long. How could you expect our cricketers to get the kind of exposure and experience they need to play international cricket?", he added.
The former SL batsman blamed club cricket administrators a lot for this current situation. He believes that club cricket never allowed state cricket in and that is why Sri Lanka cricket is in the flux at the moment.
"I blame the club cricket administrators a lot. They have always had this belief there is nothing bigger than club cricket and there should be nothing more than club cricket. I was the chairman of the interim committee. We wanted to bring in state cricket, Mahela Jayawardene had spoken about it, to bring in the necessary infrastructure, people that need to be in place, etc. But as soon as we left (Jan 2016) it was thrown out of the window. This keeps repeatedly happening," the 61-year-old said.
Wettimuny stressed on the need to change the system and take politics out of the game to improve the condition of cricket in the country. "I have been saying for the last five years before long Bangladesh will overtake us. We are in a bad situation and we need to reverse this fast. But I don't think any of that will happen until we change the constitution and end the politics. But we have 147 votes. There are 46 votes in India and your Supreme Court has told (BCCI) to bring it down to 30. That tells you the story. We have clubs that have two votes, and they don't even play cricket," Sidath Wettimuny concluded.