10 Infamous sledging incidents that made headlines in cricket
Some sledging incidents will reside in the minds of cricket supporters forever. Here's a look at 10 of them.
While competing on the field, cricketers give their best to obtain the desired results for their teams. Sometimes, players do not hesitate to instigate their opponents, resorting to sledging and banters. In many instances, this tactic has worked while there are several incidents to recount when it also backfired and went against players.
In the 1996 World Cup quarter-final between India and Pakistan, when Aamir Sohail hit Venkatesh Prasad for a four in Pakistan's 15th over, the former got overconfident. Following the delivery, Sohail pointed his bat towards Prasad and sledged him. However, the Pakistan stalwart's overconfidence went against him and the next ball, Prasad cleaned him up and had the last laugh.
Discussing sledging and banters more, here are the 10 sledging incidents that grabbed a lot of eyeballs
10. Mohammad Kaif vs Mohammad Yousuf, 2005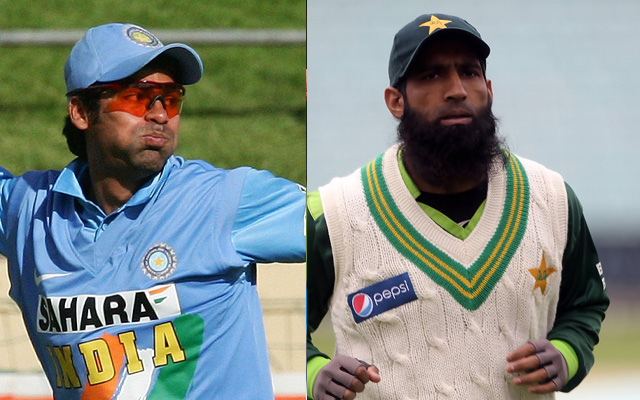 The India-Pakistan cricket rivalry has always produced mouth-watering contests for avid cricket supporters. During the 2005 Pakistan tour of India, both teams faced each other in the second Test at the iconic Eden Gardens of Kolkata. In the second innings, Pakistan were following the target of 394.
The match was at an exciting stage for Indian cricket team fans as the visitors lost four wickets at a score of 115. After the fall of four batters, Yousuf was striving to stabilise Pakistan's innings with his defence. Moving ahead slowly, he had amassed 22 off 87 when Mohammad Kaif, who was fielding at the short-leg area, took a dig at Yousuf for not hitting a single four.
"Ek bhi chauka nahi mara 87 ball khel li (He hasn't scored any four after 87 deliveries)", said Kaif. The ace fielder's plan worked in India's favour as Yousuf lost his wicket to Anil Kumble a couple of balls later. Following his wicket, Pakistan completely collapsed and handed India a 195-run win.