IPL 2023: 5 cricketers who might break into Indian squad after ongoing season
Here are 5 cricketers who might break into the Indian team after IPL 2023.
The Indian Premier League 2023 is going on in full swing. We're almost halfway down the stage. All franchises have played close to 7-8 games each. It's a mixture of Indian and foreign players who have had a mighty impressive start in the tournament.
Some of the Indian uncapped players have impressed with their outings thus far in the season and are trying to make a case for themselves as far as their India selection is concerned. The transition from domestic cricket to international cricket is not easy and that is a known fact. And there's always a lot to grind before you get the opportunity.
Considering the amount of cricket India play, you always need your backups in case any situation arises when you need them. It also prepares them with the correct frame of mind. So, it's likely that the selectors must be keeping an eye on future prospects. If they see potential, they can track down the players quickly.
Let's discuss the five players that might get an India call-up based on their heroics in the ongoing IPL:
5. Tushar Deshpande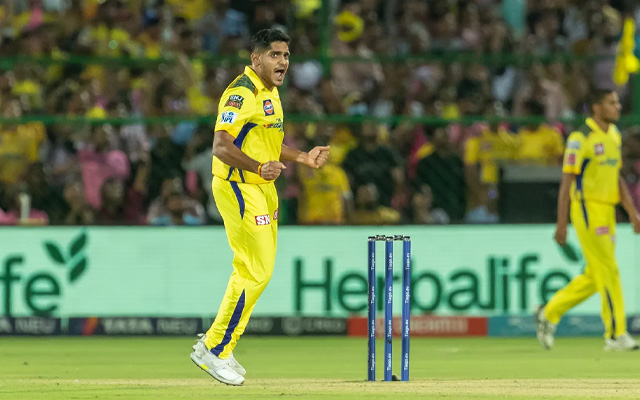 Tushar Deshpande is the only bowler to feature in this list. To everybody's surprise, he has become MS Dhoni's go-to seamer this season. He has bagged 14 wickets in eight games thus far. He has been impressive thus far and tried to fill in for Deepak Chahar (though in a different role altogether). He can be expensive but has the ability to bounce back.
Before the ongoing season, he was with the Chennai Super Kings franchise as a net bowler. Backed by Dhoni, he's bowling in the death overs as well. He was always performing for his domestic side Mumbai and is trying to make a name for himself in the cash-rich league. Now, he's in contention for the IPL 2023 Purple Cap too.
Another push may take him close to his India call-up. The CSK franchise has instilled a great mindset in him. You can go for runs, but there's always a comeback you can make-and it seems to be his mantra at the moment.